Books behind bars: A conversation with the Ear Hustle podcast's Earlonne Woods & Nigel Poor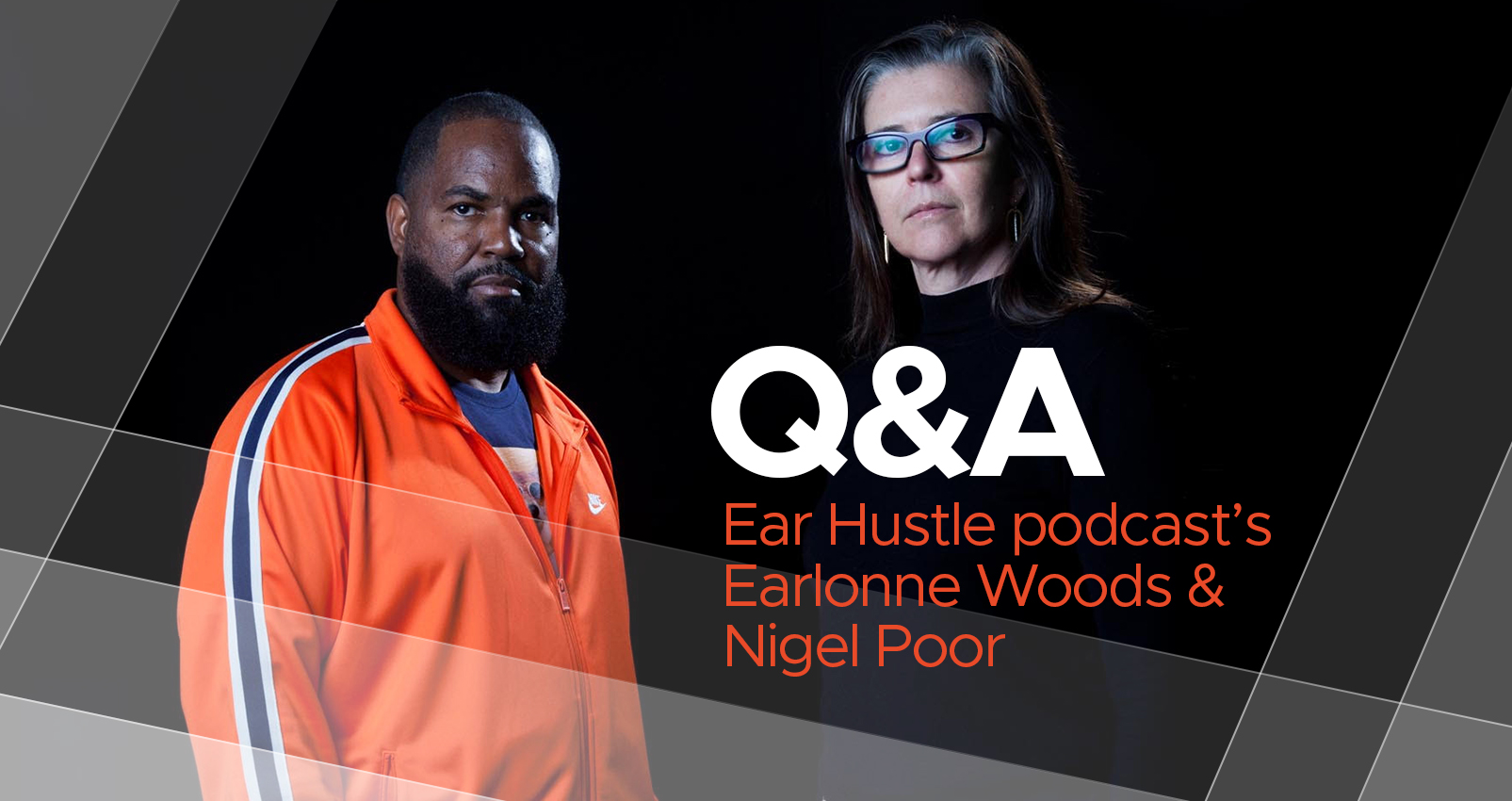 By Jill Grunenwald, Staff Writer | January 2022
Since its launch in 2017, the Ear Hustle podcast has given listeners a glimpse into the daily realities of life inside San Quentin State Prison through interviews with incarcerated men and women as well as following up with individuals post-incarceration. Along with being a 2020 Pultizer Prize finalist and a Peabody Award nominee in 2017 and 2018, Ear Hustle has received honors from the Third Coast International Audio Festival, Moran Center for Youth Advocacy, Webby Awards, Yerba Buena Center for the Arts and Society of Professional Journalists.
Earlier this year, Ear Hustle co-founders Nigel Poor and Earlonne Woods published This is Ear Hustle: Unflinching Stories of Everyday Prison Life. Recently, Earlonne and Nigel sat down with OverDrive's Professional Book Nerds podcast founder and former prison librarian Jill Grunenwald. They talked about their podcast, book and personal experiences using the library at San Quentin.
PoR: Can you start by giving a brief intro to Ear Hustle, both the podcast and then how the book came to be?
Nigel Poor: Ear Hustle is a podcast about everyday stories of life inside prison and now also includes post-incarceration. At the time we began the podcast, Earlonne was serving a — how many years long sentence?
Earlonne Woods: Thirty years to life plus 26 years to life.
Nigel Poor: We had met in the Media Lab at San Quentin. I was a volunteer and Earlonne was incarcerated there and we had worked on a radio program together for a few years. But I was getting a little bit tired of doing that and wanted a new challenge. So I proposed to Earlonne that we try to make a podcast. And he immediately said yes, and then his second question was, "What's a podcast?" That says a lot about Earlonne. He's always willing to say yes.
So, in 2016, we got permission to submit for a podcast contest through Radiotopia. We ended up winning and our podcast got picked up and distributed nationally and it became – humbly, I'm going to say – successful quite quickly, which was a shock to everybody. We're in our eighth season right now and we had for awhile talked about doing a book but the timing wasn't right. But when Earlonne got out of prison it seemed like the cool thing to do. We wanted to tell behind-the-scenes stories about how we created the podcast, how we met each other, what our relationship is like and dive deeper into some of the stories we have told on the podcast and tell all new stories in our book.
PoR: There is a preview episode before the first official episode of Ear Hustle where some of the guys at San Quentin talk about how TV shows, movies and news programs never accurately capture what it's like inside prison because the people producing them have never been incarcerated. But the prevalence of these pop culture things speak to this idea that people on the outside are fascinated by what happens inside a prison. And I think that can explain a lot about why Ear Hustle is so popular, and I'm curious if either of you have had any thoughts about where you think that fascination comes from?
Earlonne: I would think it comes from individuals wanting 1) to fulfill their curiosity or 2) just to have some type of new information they don't get on the regular. And, like you say, being inside you're dealing with it first hand; it's not just something someone who has never dealt with doing time put out there. So, I think individuals can enjoy a real, frank, intimate conversation and one that's being had by someone up against it, based on their freedom being gone. Everything is gone; they're limited to a lot of stuff, they are marginalized. People just really get into those types of narratives or those types of stories.
PoR: Earlonne, I'm wondering if you can talk a little bit about your experience with the prison library at San Quentin. 
Earlonne: When I used to go the library in San Quentin I was mainly only going for the legal aspect. You have the regular library, then you have the legal library. When I was in the library it was usually dealing with legal issues. Whether it was trying to figure out some initiative stuff or trying to figure out what's the latest case dealing with the three strikes law or something in that category. Usually when I was in the library it wasn't just for a book, it was for a nonfiction law book.
Nigel: I was always amazed by how much reading went on in prison and how hungry people were for books. I remember we were talking to our other co-host inside, Rahsaan "New York" Thomas, and he was talking about how they don't get that many television stations. And he's like, "And TV is so boring, so I would rather read." I loved hearing that because that's not something you hear that much outside anymore.
I also loved how books get passed around in prison. Really well-worn and really well-read. Seems to me like books are super important inside.
PoR: They are. At the prison where I worked the library was super popular and the guys I worked with would just read. I had some who would read multiple books a day. But I do like that you, Earlonne, discussed the law section of it because that's also an equally important part of any prison library, and I don't know how many people know that the guys inside have access to all these legal books and do a lot of legal work while inside.
Earlonne: When I first went to prison I had a job that was Monday through Friday. I could only go to the law library one day a week. So, I told them I don't want to work anymore; take my job away and put me on restricted status. That means I can't go out normally, I have to stay in, and everything is suspended (except access to the library). And that was so I could go to the law library three or four times a week instead of just that one day on the weekend to try and figure out how to appeal something where I need eight years of legal schooling to understand. One day wasn't going to work for me, so I gave up all my programs for about nine months and just focused on the law library and trying to appeal my case.
Nigel: I can't even imagine reading those law books. It must be so difficult.
Earlonne: You know what? Some people get really into it. Ya-Ya got really into law library stuff.
Nigel: He's one of our producers.
Earlonne: And for other people it drives you crazy because you sit there reading all these books and the situations seem just like yours. But when you submit (appeals or other legal briefs to your judge) you get denied but these people get granted it and their stuff was worse than yours. You just try to figure out your place and what this language actually means because the legal language is a whole different language than the regular English language, I can say that.
PoR: It is, and trying to navigate all of that without having the legal background is very tricky.
Earlonne: Definitely. And I would say that the library in prison is very important and it's mainly important for people that are in administrative segregation or the SHU [Security Housing Unit]. Because all you have is books. You pass books around because you finished it too quick before they come around and give you other books. So you be sharing them with your partners on the tier just trying to have something.
Nigel: I remember a story a guy told us during a lockdown and how important it was to have reading. He had a magazine, and he would dole out how much he could read every day so it would last longer. And he even got to the part where he was reading the ads and all the side effects from medication. Anything he could read he just wanted to read.
Want to hear more from the Ear Hustle team? Visit the Professional Book Nerds website to listen to the full interview. 
This interview has been condensed for length and lightly edited for clarity.