Cooking the books: Libraries embrace culinary programming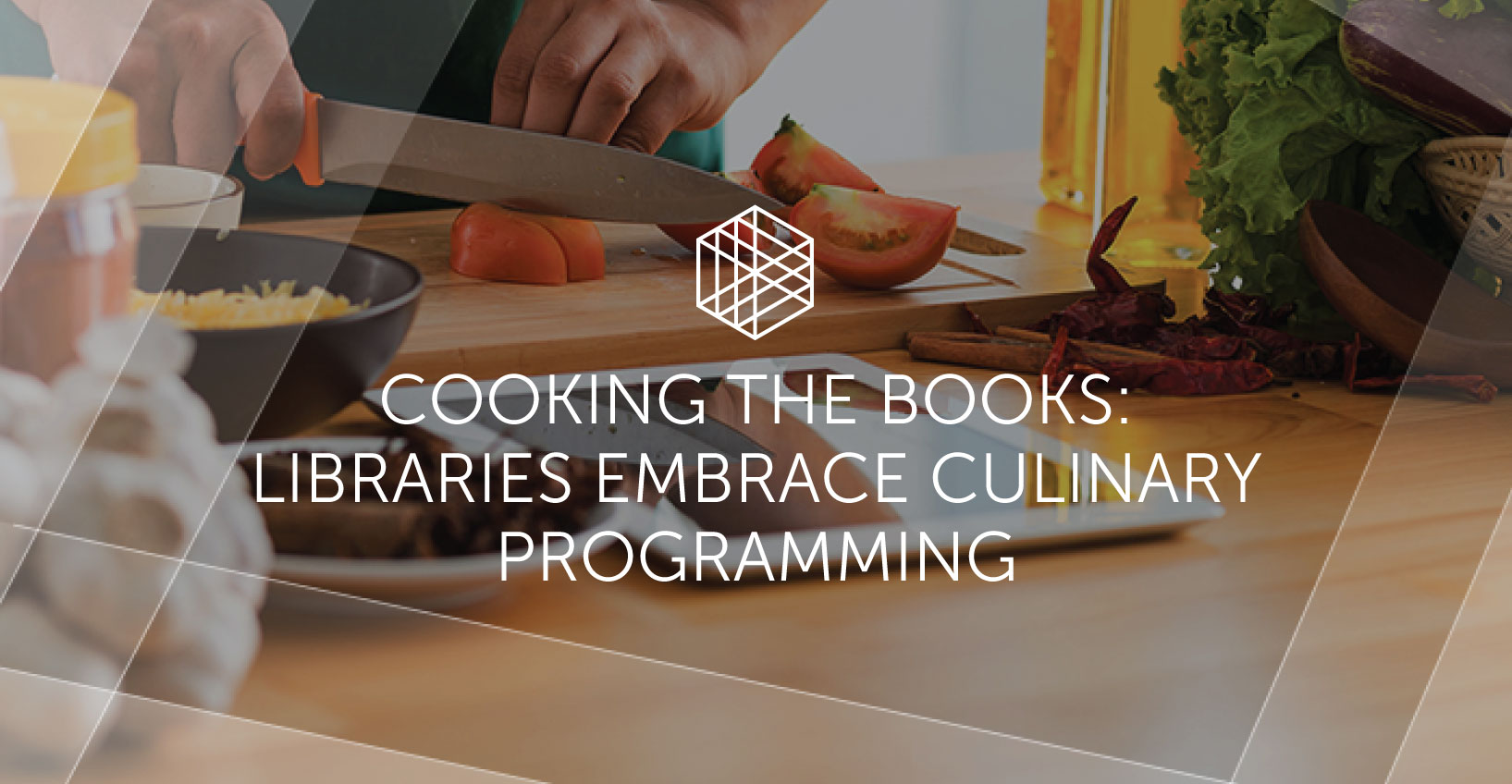 By Stacy Alesi, Librarian | October 2019
Like so many people today, I love to cook, and I love to read. About 10 years ago, I started noticing that cookbooks were no longer just collections of recipes. There were stories interwoven with the recipes. Sometimes, they were part memoir, part cookbook. Over the years, this became more and more prevalent. The new norm, if you will.
I loved reading these cookbooks, even if I wasn't always compelled to try the recipes. Then I had a thought; if I enjoyed reading these cookbooks, maybe other people would as well. I dreamt up this idea of a cookbook discussion group and brought it to my supervisor.
At the time, I was a reference and programming librarian for the West Boca Branch of the Palm Beach County Library System (FL). Boca Raton is a mostly affluent suburb, and that branch of the library predominantly serves retirees and young families.
When I suggested this cookbook discussion group, my supervisor was flummoxed. He reminded me of the classic joke:
What do women in Boca make for dinner on Saturday nights?
Reservations.
But I persevered.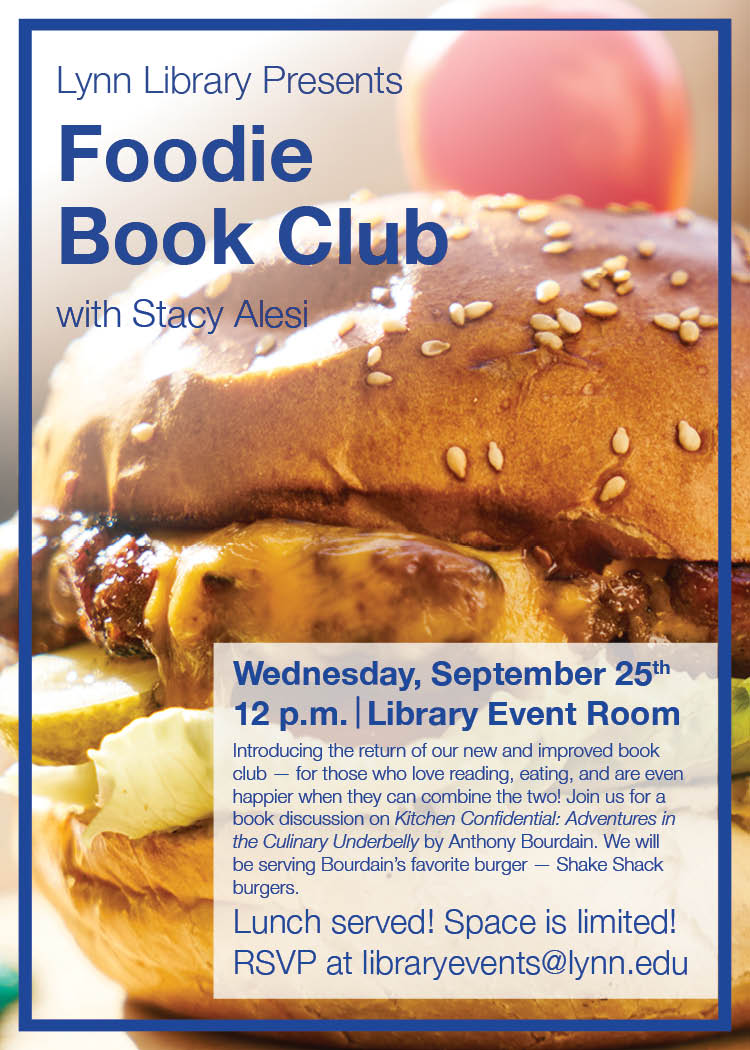 There were other hurdles as well. Like many libraries, our publicity is due three months prior to an event. To make this cookbook discussion a reality, I would have to commit to doing it for at least three months, even if only one person showed up. Or none. I was fine with that.
The next hurdle was determining how to select the cookbooks for discussion. Would we discuss just one cookbook, with everyone reading the same book? Would we have themes, like Italian cooking, Food Network stars or sheet pan cookbooks? Would we include chef memoirs, and other food-based nonfiction?
In the end, we did all of the above. Being one of 17 locations gave me access to multiple copies of the same cookbook. We also had the luxury of leasing books, so I had the option to use part of my lease budget to procure several copies of the same book. Themes were the least expensive way to go; I could borrow various cookbooks from multiple locations to serve the theme. Things were looking up.
The next decision to be made was a bit more esoteric: would we include baking as well as cooking? For the uninitiated, there are generally two camps in the kitchen; people who like to bake, and people who like to cook. Baking is a science with little room for experimentation. Cooking is much more loosey-goosey, with plenty of room to change up amounts, ingredients and more without having the recipe fail. Books like Cake Wreck: When Professional Cakes Go Hilariously Wrong (Yates, 2009) and television shows like "The Great British Bake Off" (or "The Great British Baking Show," as it's known in the U.S.) and "Nailed It!" are popular for a reason.
"Indeed, the road to baking glory is littered with Pinterest fails, burned baked goods, and undercooked treats for those of us who seem to be missing some basic baking skills." (Nelson, 2018).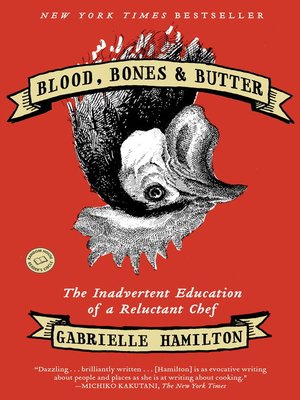 So, with some trepidation, I leaned in and started "Cooking the Books," a cookbook discussion group. The first month we had a shocking turnout: 24 people. All women, and one man who was there to pick up women. They chased him off pretty quickly. Some came because they thought we would be cooking. Many came because they had "retired" from cooking but still enjoyed looking at cookbooks and saving recipes to give their grown children to try and wanted to discuss food trends as well.
The group became a cohesive dozen or so, with our numbers rising to about 20 during the winter months when our population swells. We expanded from just talking about cookbooks to also discussing new restaurants, grocery stores and farmers' markets in town. Some of the retired cooks were inspired to come out of retirement; they found that while cookbooks are generally not available in large print, ebooks can be sized as needed. Cooking from an iPad or Kindle placed in a Ziploc bag keeps things clean and accessible.
In addition to the cookbook discussions, I showed YouTube interviews with the chefs/authors on occasion. Google has a long-form interview series called "Talks at Google" with an entire library of "Chefs & Food" related topics (Google, 2017). We read Deep Run Roots: Stories and Recipes from My Corner of the South (Howard, 2016) and watched an episode of Howard's cooking show, "A Chef's Life" (PBS, 2019).
We occasionally read a chef memoir, like Blood, Bones and Butter: The Inadvertent Education of a Reluctant Chef (Hamilton, 2011), Yes, Chef: A Memoir (Samuelsson, Chambers, 2012) and Whiskey in a Teacup (Witherspoon, 2018). We read Food Rules: An Eater's Manual (Pollan, 2009) and Consider the Fork: A History of Invention in the Kitchen (Wilson, 2012) and Skyped with the author, Bee Wilson, from her kitchen in Great Britain!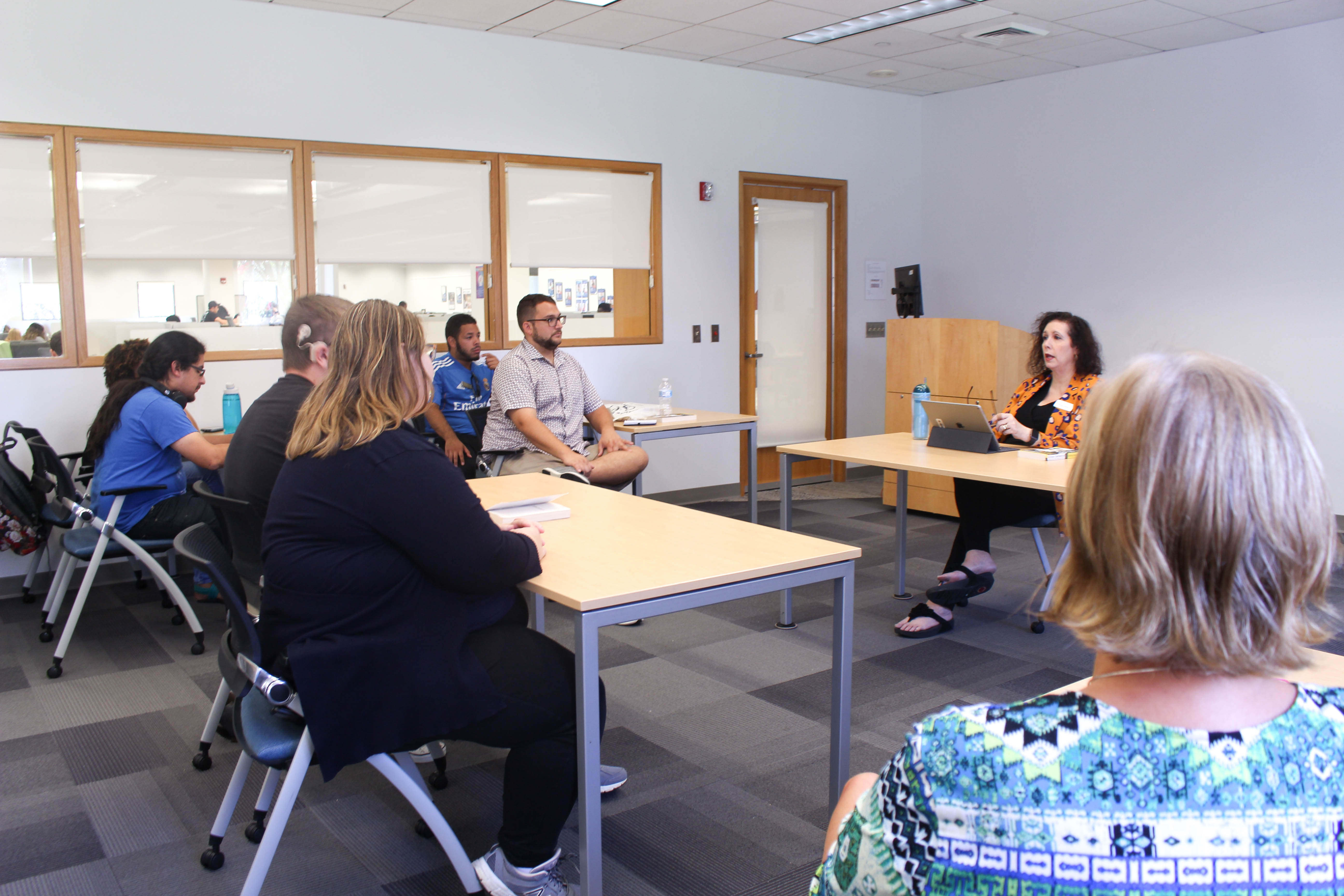 Information Desk Librarian Stacy Alesi leads the monthly meeting of the "The Foodie Book Club" at Lynn University (FL).
Credit: Christelle Mehu, Lynn University
Food programming continued to grow. Whole Foods sent us a chef to demonstrate healthy cooking, and Publix Supermarkets sent us their "Apron Chefs" to do cooking demonstrations (Publix Asset Management Company, 2019). We made "Cookies in a Jar" (Better Homes & Gardens, 2019) at the winter holidays. I invited a retired food writer from the local newspaper, the Palm Beach Post, who shared stories about Food Network stars and food journalism. The local county extension sent us an agent to discuss nutrition and demonstrate knife skills.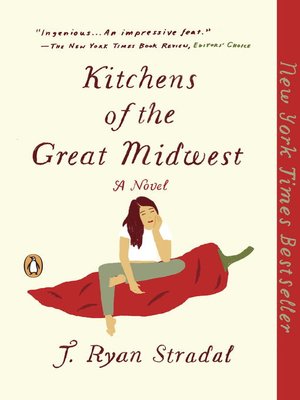 I showed documentaries, like "Food, Inc." (2008), "King Corn" (2008) and "Supersize Me" (2004). One summer, I showed "The Great Courses: Everyday Gourmet: Rediscovering the Lost Art of Cooking" (The Teaching Company, n.d.) over a six-week period. The following summer we did another series, "The Great Courses: Everyday Gourmet: Making Great Meals in Less Time." I also did a "Foodie Film Series" featuring films like "Ratatouille" (2007), "Big Night" (1996) and "Chocolat" (2000).
Then I moved to the academic library at Lynn University (FL), which offers a hospitality major and full teaching kitchen. The demographics of a university are very different from the public library, so I had to rethink where I wanted to go with this, and a new book discussion group was born: "The Foodie Book Club." In September, we read Kitchen Confidential: Adventures in the Culinary Underbelly (Bourdain, 2010), the book that really changed food writing and made the late, great Anthony Bourdain a star. We served one of Bourdain's favorites, the Shake Shack burger (Eater.com, 2016) at this event.
The October book is Kitchens of the Great Midwest (Stradal, 2015), a coming-of-age novel set in the food world that has a memorable scene featuring a hot wing eating contest in a college town. Wings will be served. Our November selection is Relish: My Life in the Kitchen (Knisley), a graphic novel memoir with recipes. We are partnering with the school of hospitality and invading their kitchen to bake one of the recipes in the book, a chocolate chip coconut cookie, with the students.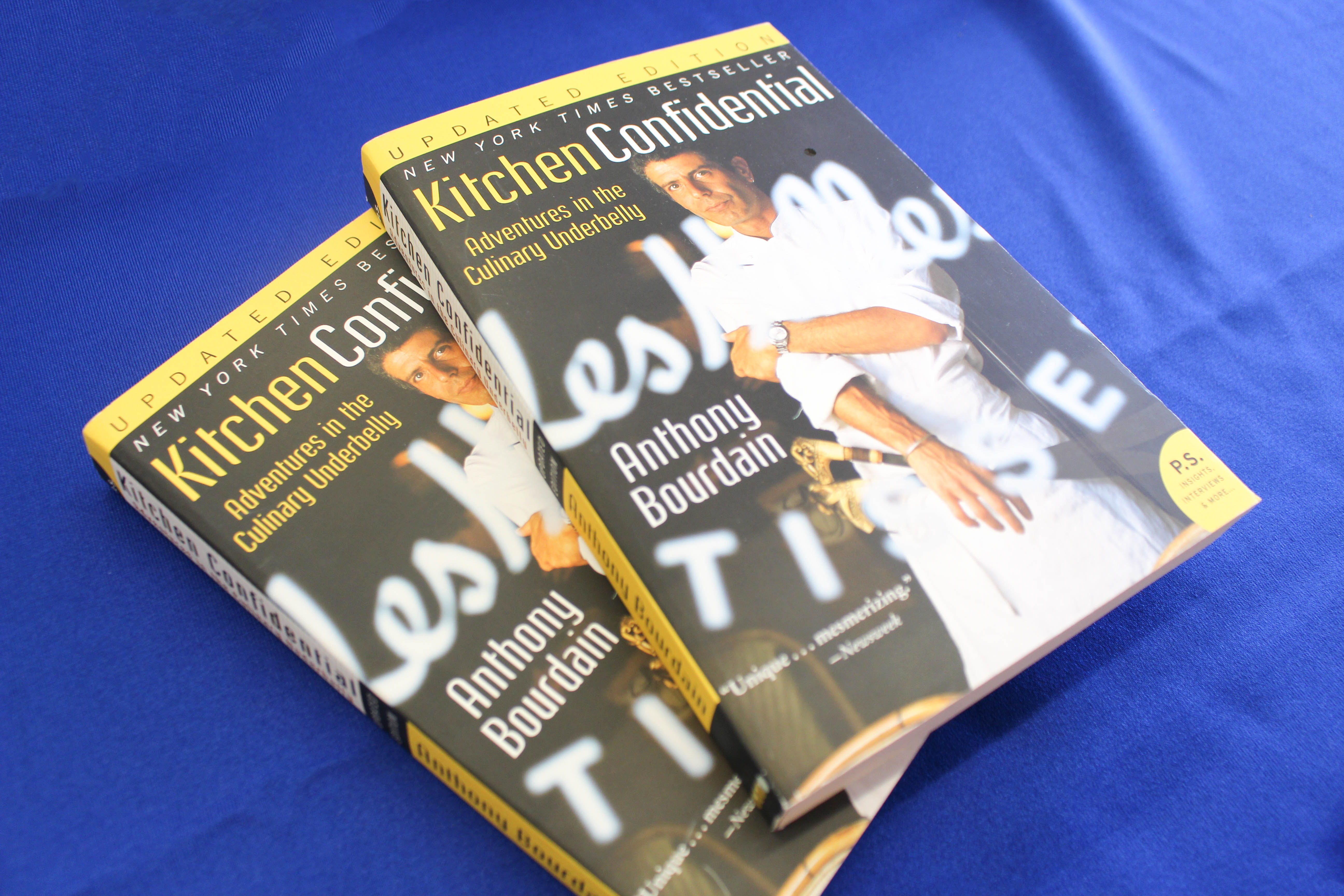 Anthony Bourdain's Kitchen Confidential: Adventures in the Culinary Underbelly was the September 2019 selection for "The Foodie Book Club" at Lynn University (FL).
Credit: Christelle Mehu, Lynn University
Food programming has become mainstream in many libraries. The Palm Beach County Library System has had, at varying times, a foodie fiction book group and a baking cookbook group. After many years of discussion, there is now a Veterans community garden at the West Boca Branch library.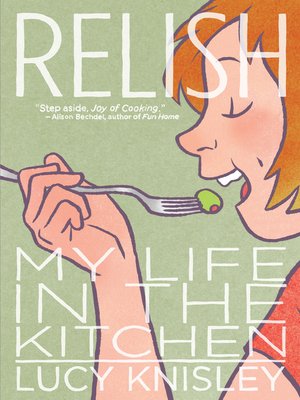 The Cuyahoga County Public Library has created a new position, a culinary librarian, with the fabulous Ron Block in that role. Their Culinary Literacy programs includes events like "Smooth Smoothies," a "hands-on cooking class where we prepare recipes using fresh garden herbs," "Edible Banned Book," with "ideas, tips and tricks so you can practice creating your edible masterpiece" and "Going Gluten Free," a "two-part program [that] will take a look at the basics of gluten-free eating and offer advice on beginning the journey" (Cuyahoga County Public Library, 2018). The Free Library of Philadelphia has created a Culinary Literacy Center, with programs like "Edible Alphabet" ("Learning English and connecting to culture through cooking") and "Nourishing Literacy" ("Connecting classes to literacy and food") (Free Library of Philadelphia, 2015).
WebJunction featured "Library Kitchens and Cooking Programs," with lots of great ideas for programs on food insecurity, holding a recipe exchange, a class on how to clean an oven (adulting!) and many more (Peterson, 2016). The Programming Librarian has had articles on food programs in libraries, like "Program Model: Books & Bites from the St. Johns County Public Library System" where they "take a popular title, book or TV show, and look at historical events that surround it." (Wood, 2019).
There are as many ways to present food programming as there are libraries. I hope you are inspired by reading about my journey, and about what other libraries are doing, to give it a try yourself. Jump on the bandwagon and create food programs that won't leave a mess in your library!
References
Better Homes & Gardens. (2019). Cookies in a Jar. Retrieved from https://www.bhg.com/recipe/cookies/cookies-in-a-jar/
Cuyahoga County Public Library. (2018). Culinary Literacy. Retrieved from https://www.cuyahogalibrary.org/LP/Culinary-Literacy.aspx
Eater.com. (2016, April 8). What Anthony Bourdain Orders at Shake Shack; Bernie Sanders Talks Diners. Retrieved from https://www.eater.com/2016/4/8/11392588/anthony-bourdain-shake-shack-bernie-sanders-alton-brown
Free Library of Philadelphia (2015). Culinary Literacy Center. Free Library of Philadelphia. Retrieved from http://libwww.freelibrary.org/programs/culinary/
Google. (2017). Talks at Google – Chefs & Food. Retrieved from https://talksat.withgoogle.com/explore/categories/chefs-food
The Great Courses. (n.d.). Learn How to Cook with The Great Courses.
Nelson, A. (2018, March 9). Netflix has a new baking show that is all about cake FAILS, and it'll make you feel better about your own kitchen disasters. Hello Giggles. Retrieved from https://hellogiggles.com/news/nailed-it-netflix/
Peterson, J. (2016, March 3). Library Kitchens and Cooking Programs. WebJunction. Retrieved from https://www.webjunction.org/news/webjunction/library-kitchens-and-cooking-programs.html
Publix Asset Management Company. (2019). Cooking Classes & Events at Aprons Cooking Schools. Retrieved from https://ww4.publix.com/recipes-planning/aprons-cooking-schools
Wood, M. (2019, August 7). Program Model: Books & Bites. Programming Librarian. Retrieved from http://www.programminglibrarian.org/programs/books-bites