Denver's Tattered Cover Book Store maintains its independent spirit under new ownership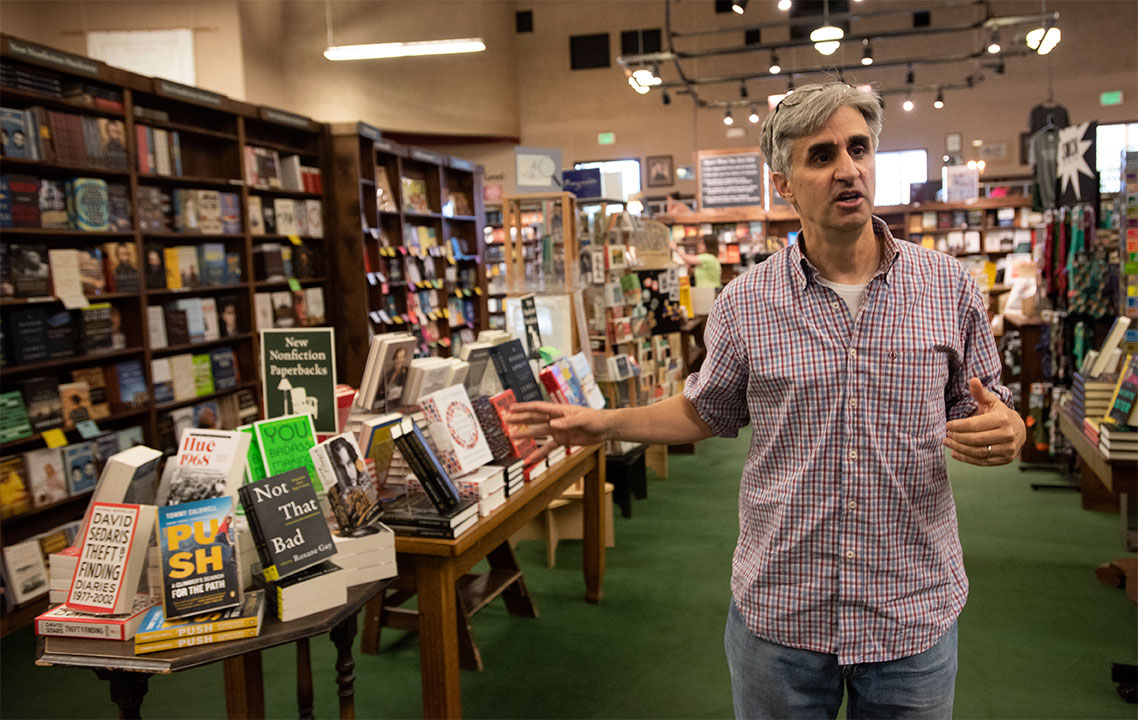 By Brian Byrne, Editor   |  June 2018
Pretty much Len Vlahos' entire professional life has revolved around books.
A Yonkers, New York, native, Vlahos started working in bookstores at 18. This included a stint at the New York University bookstore while briefly attending film school there. He would go on to a 20-year career at the American Booksellers Association (ABA) – rising to the role of chief operation officer – followed by a stretch at the Book Industry Study Group. The 53-year-old has also penned three successful young adult novels.
Along with his wife and business partner, Kristen Gilligan, Vlahos is now a few years into what may be his greatest literary-based adventure: owner of Denver's iconic Tattered Cover Book Store chain, one of the largest independents in the country.
"Goal one from the day we got here was don't screw it up," he said.
It's safe to say they haven't.
"I was always just a fan"
The original Tattered Cover location was opened in 1971 in Denver's Cherry Creek district. Joyce Meskis would purchase the business in 1974 and oversee numerous expansions and moves over the next few decades as Tattered Cover grew into one of the city's –  and book world's –  most beloved institutions.
"It is one of the most recognizable, trusted and well-thought-of local brands," Vlahos said. "I think Tattered Cover holds a special place in the hearts of the community."
Tattered Cover now encompasses four stores in the Denver area. The largest is on Colfax Avenue on the east side of the city. Opened in 2006 and occupying the former Bonfils Memorial Theater/ Lowenstein Theater, it features the green carpet, dark wood and seemingly endless reading spaces Tattered Cover is known for.  The "LoDo" (Lower Downtown) store is a favorite destination for the city's bustling tourism industry, and with its exposed beams and brick, roll-up doors that now serve as a wall of windows and rustic hardwood floors, maintains elements of the dry goods warehouse it served as at the turn of the century. A commuter store in the landmark Union Station dining, shopping and transit hub across the street opened a few years ago.
LoDo store Retail Manager Derek Holland has worked for Tattered Cover since 1989. He said its success can at least partially be attributed to the mix of people on both sides of the counter, and he appreciates the traffic from all corners of the globe the revitalized neighborhood attracts.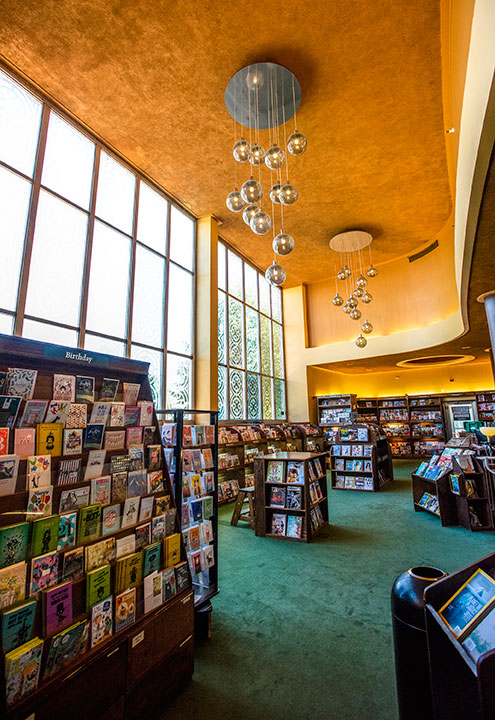 "From all over the world. I think we have this amazing group of customers as well as booksellers," he said. "People from all over this world come through this area now, and it's gratifying to see so many people coming here to Tattered Cover, too."
Rounding out the chain is Tattered Cover at Aspen Grove in suburban Littleton, as well as three satellite stores at Denver International Airport.
Vlahos came to know Tattered Cover during his early days at the ABA, at which time Meskis was serving as the organization's president. Several visits followed over the next couple of decades, and he developed the same fondness for the store that countless others had.
"It was always one of my favorite operations," he said. "I was always just a fan of Tattered Cover."
Fast forward to 2014 and Vlahos and Gilligan were looking for a change. Gilligan's fond memories of living in nearby Boulder after college and his own positive experiences in Denver led Vlahos to contact Meskis about possible professional opportunities in the area. The conversation made its way to Meskis' planning for succession and a question if the couple was interested in taking over Tattered Cover. A year later, Vlahos and Gilligan were packing up their lives in Stamford, Connecticut, and driving cross country with their two young sons to start a two-year transition. They officially took ownership of Tattered Cover in July 2017.
"We're about the experience"
Besides its world-class selection, Tattered Cover has built a reputation on exemplary customer service and support of free speech, protection of readers' privacy and political neutrality. Vlahos said these traditions live on.
"Joyce would never have partnered with us if we didn't share her values; that was important to her," he said.
This includes carrying any title that's constitutionally protected and has a market – despite any personal objections. Vlahos said it's crucial Tattered Cover not impose editorial judgement on content.
"People need to be able to come in and look for whatever they want, for whatever reason they want, without feeling that Tattered Cover's judging them," he said. "So, whether it's the mom of a trans(gender) kid who wants to understand that kid better and find a book about it, or it's someone who wants a book about gun ownership rights, they're all welcome here."
Tattered Cover also hosts more than 500 events annually. While these are primarily author appearances – recent big names include Madeline Albright, Bryan Cranston, Hillary Clinton and Bruce Springsteen – there's something for almost everybody with activities like trivia, adult coloring nights and story times for kids.
"We're not just about the sale of the book, we're about the experience," Vlahos said.
Robert Vandeusen agrees. He's been enjoying the Tattered Cover experience since 1995.
"It's a cultural center," he said while working from a reading nook in the Colfax Avenue store.
Overall, Vlahos believes that a lot of what's made Tattered Cover "Denver's living room" is what makes independent bookstores in general such invaluable assets: the connection to the community. Not homogenized with central buying or programming, independents curate their selection, events and experience to fit their communities, he said.
"What I think makes independent bookstores special is that we are rooted in our communities," he said. "We participate in our communities, we give back to our communities, we serve our communities, we know our communities."
"I've fallen in love with this place"
Vlahos readily admits that moving into the role of running of one of the biggest names in independent bookselling was a challenge – even with his extensive industry experience.
"For the first two years, every day was like a sip from a water hose," he said. "I came in with a lot of knowledge and a lot of perspective…but the difference between theoretical and applied science is very different."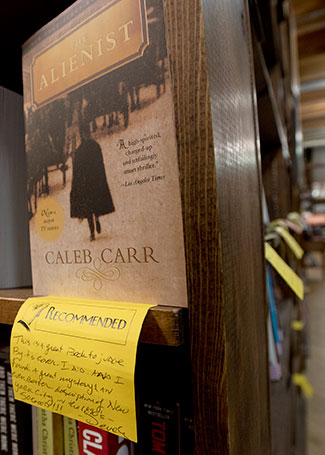 That two-year transition period in which Vlahos and Gilligan worked alongside Gilligan was important, he said, allowing the community to get to know the new ownership before the official change and avoid "tissue rejection."
"The community's been incredibly welcoming," he said. "People stop me all the time and say 'Hey, you're the new owner of Tattered Cover' or 'We're so glad somebody's continuing this.'"
While the couple is very mindful of Tattered Cover's legacy, Vlahos acknowledges there was a need for a fresh set of eyes. They've dramatically increased outreach to schools, including forming teen advisory boards at the Colfax Avenue and Aspen Grove stores.
Rylie Leffingwell, 14, has been visiting the Colfax Avenue store for as long as she can remember, and now serves on its teen advisory board. She said the store has played a big part in her personal identity and friendships.
"Almost everything I love about literature you can find at Tattered Cover," she said.
Other notable changes Vlahos cites are a new cloud-based inventory management system – a "massive undertaking" – completely overhauling the stores' coffee shops and taking steps to improve and expand the online component of the business.
Overall, Vlahos describes the first few years at the helm of Tattered Cover as a mix of everything; crazy, stressful, rewarding and fun. It sounds like he wouldn't have it any other way.
"I absolutely think of myself, three years in, as a Coloradoan," he said. "I wish I had come here 20 years ago, I've fallen in love with this place."
Brian Byrne is the editor of Perspectives on Reading and communications manager at OverDrive.