Genrefication worked wonders at my schools. Here's how we did it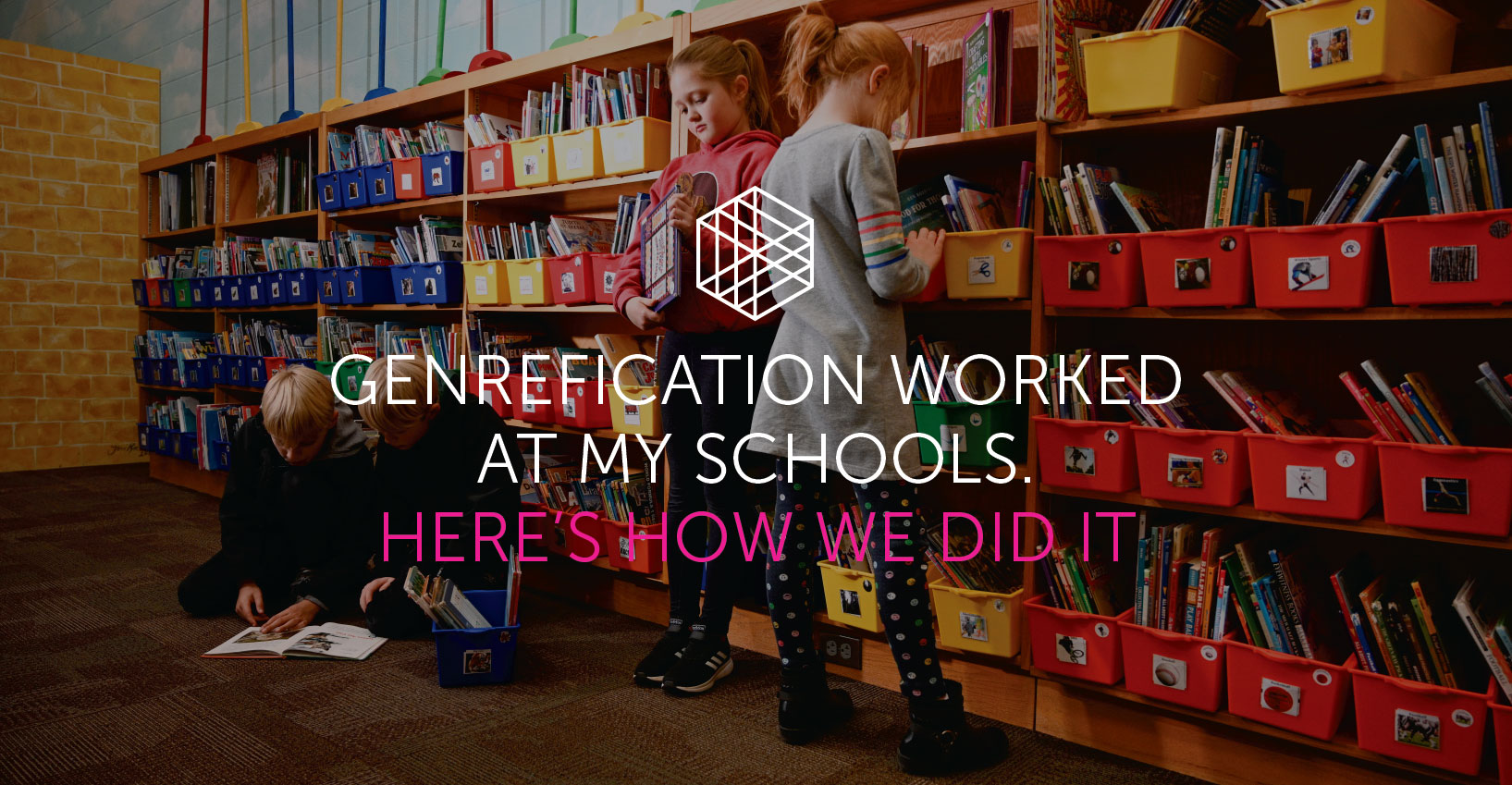 By Jessica Graham, Library Media Technology Integrator | December 2019
Located in northwest Wisconsin, the School District of the Menomonie Area serves almost 1,400 elementary students attending our two rural and three city schools. I work at all five libraries, with library clerical staff at each library as well. In addition to overseeing the elementary library department and teaching lessons, I also coordinate the Battle of the Books Program for fourth- and fifth-grade students.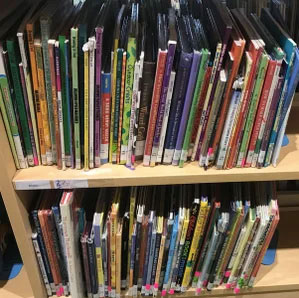 This used to be what our nonfiction sections looked like. Our elementary students get a 10-minute check-out period followed by a library lesson once a week. Imagine, as a young student, trying to find a book of interest here in 10 minutes. Factor in potential learning and physical disabilities, reading levels, varying knowledge of the Dewey Decimal System and having to choose books based on what you can see on the spine, and it doesn't make for a very active, engaging environment. Staff have virtually no extra time to look up books on the computer, write down the Dewey location and then try to locate them.
I would often observe everyone trying to navigate the nonfiction section or avoiding it completely. We had lessons on the Dewey Decimal System and our nonfiction shelves were labeled, but students and staff were still not engaging. Thinking about genrefication and wondering how this might work with nonfiction led me to ask myself, "Could I genrefy my nonfiction section?" And, of course, I answered myself, "YES!"
Genrefication is a system of organizing books by genre, topic or subject. If you Google genrefication, you'll see a long list of articles, blogs, experiences, etc. all within the last five years. It's the latest library trend. It's been very popular among students and teachers alike because it makes finding books so much easier.
There is some contention among librarians about genrefication because so many fiction books have multiple genres. How does one decide where to put them? If the librarian can't remember which genre they put a book under, then how will students know? I thought about this a lot as I was watching students navigate the nonfiction section of each of our elementary school libraries.
The process
Make no mistake, this is a PROCESS!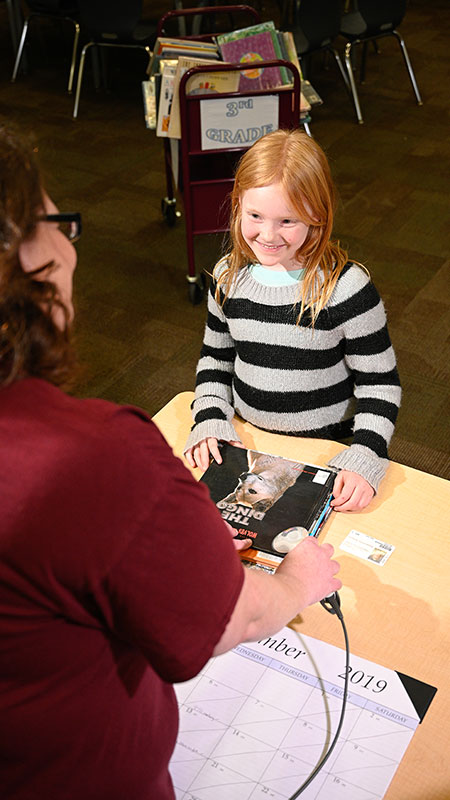 The first step was talking with my amazing library team. They embraced the idea with varying levels of confidence, but all were willing to try it with me. We measured all the shelves at the five schools so I could begin searching for bins. Having bins would allow the libraries to group together books of the same topic or concept and put them all in the same place.  Bins would also be eye-catching to students and make it easy for them to see what kind of books are available. They had to be durable, attractive, safe and, most of all, the right size. I can't tell you how many times I ordered and returned different kinds of bins. I finally settled on some durable plastic ones that aren't too big, so I know students can lift them and they won't topple over. They can also sit both horizontally and vertically on the shelf, which is nice for flexibility purposes. The bins came with the label slot already on, which was important. I didn't want to worry about fastening my own and having students pick at tape, Velcro or any other method I could have used. Major time saver.
The next step was funding. I am blessed to live in a community where the people and local businesses contribute to Donors Choose. If you aren't familiar with Donors Choose, it's a nonprofit organization that allows teachers to crowdsource funding for projects in their classroom or school. Without the community investment in my Donors Choose projects, there wouldn't be much to show you.
I also applied for and received a couple local grants. Like I said, this community is amazing. The cost of the bins you choose adds up fast, not to mention all the other items that come up, such as labels. I asked for money in smaller increments, which made it more manageable for those who contributed.
Dewey had the right idea; grouping books together is helpful. Alison Bauer, a fifth-grade teacher at River Heights Elementary School, puts it this way: "… this is valuable because all (or most) of the books our students will shop for in the future will be organized by genre as well! No one goes into Barnes & Noble and asks where the 746.43 books are. Instead, they ask where the dinosaur books are!" So, that's where I started.
Being involved with five schools who all had different collections and collection sizes, I had to really think about common threads. For me, animals were a good place to start because they're very popular with students and every school library has an abundance of titles about them. I would need 100 animal bins if each animal had their own, plus I had to think about new books being purchased (where would those go?), so I decided to put some in groups such as "African Animals" and "Forest Animals." If we had a ton of books on one specific animal (like cats and dogs – first grade can't get enough!) then they got their own bin.
At first, bins were organized with nothing but Post-it labels so I could really get an idea of how many books I had to fit certain categories. Post-it notes also gave me the flexibility to move books around or change topic titles without having to redo anything permanent. I worked in each library gradually, so students and staff could get acclimated to the change in small doses. The buzz was constant. As I worked, students were always asking me which bins I was working on, what I was doing, etc. Before even running a collections report, I knew our nonfiction checkouts had exploded.
But not all the buzz was positive at first. There was concern among some teachers that they had just learned where things were and now everything was changing again. As a former classroom teacher, I completely understood that feeling, so I kept that in mind as I organized and grouped material together, making sure the nonfiction bins were in relatively the same place as they were when they were organized by the Dewey Decimal System.  This way, teachers could still look in the same places for materials.
Next, I had to find images that were not subject to copyright and make bin labels to replace those Post-its.
"The pictures on the bins make nonfiction accessible to everyone. Readers at all levels can find what they are looking for," River Heights Library Clerical Katie Halama said.
But not all those "free" pictures were appealing to kids, and they didn't always match my bin category, so that did take some time. I also printed round, removable stickers for the books to match the bin picture. This was so that as I transitioned the library, I would know which books were sublocated and which were not. Fun fact: I dislike putting labels on books because they leave sticky residue that never comes all the way off. This is why removable stickers were used. In the beginning, we did have students who figured out that the stickers came off, but after explaining why we needed them, that problem pretty much dried up. Another really nice perk to having those stickers is that it's easy to utilize student and volunteer help. All they have to do is match the sticker on the book with the bin label to help you shelve.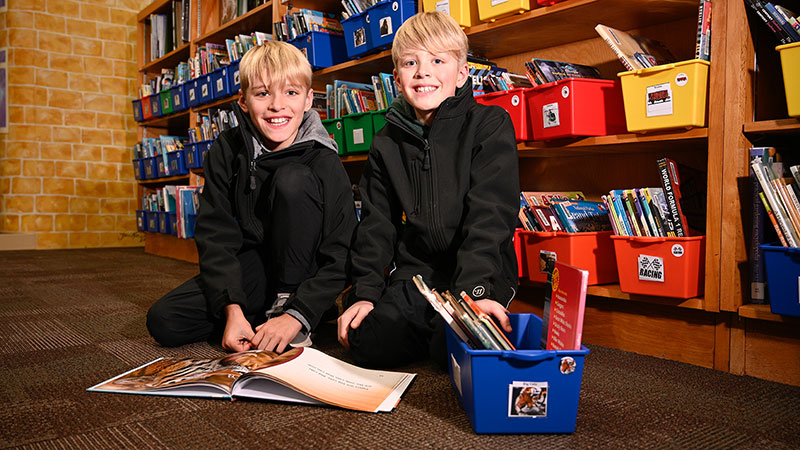 The final stage is where I'm at right now: looking at what I have and determining if I need to shift anything around. For example, I have all the science books in bins labeled "Science." There are anywhere between 3-6 of these depending on the size of the school. If a teacher came up asking for a book on electricity, and I looked it up, all I would know is that the sublocation is science. It isn't practical to look through 3-6 bins hoping to find one book. So, science is an area that needs to be broken up into smaller subsections. My library team is extremely helpful in this regard. They have embraced the nonfiction bins and are working with me to create bins they find necessary or helpful for their collection. Another part of this final stage is deciding where the outliers go. Not everything fits neatly into a bin category or topic.
Let's talk results
Simply by observing, I could tell that genrefying the nonfiction section was a success. I saw a teacher come in with a class of first-grade students who were all doing their first research project. They all got to pick a topic, and she was going to help them all find what they needed. Her face was pure panic. Can you imagine 20+ first graders all waiting while the teacher searched each topic and used the Dewey Decimal System to find them? But when she came in and I explained that the nonfiction section was now in bins, all we had to do was steer the students to the right bin. It went so smoothly! A second-grade student at River Heights Elementary said she liked the bins because, "…then it's more organized and you don't have to mix up the books."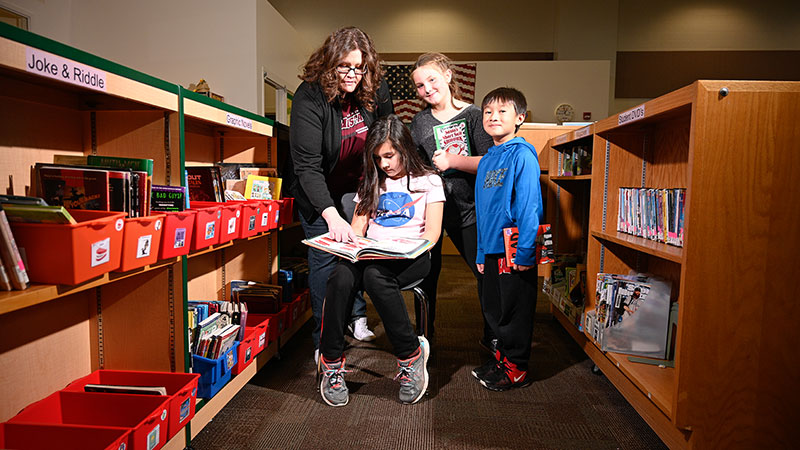 You know every school has reluctant readers, but I believe that's just because they haven't found something they want to read. For example, I saw some reluctant readers pounce on the gaming bin and "discover" the Fortnite and Minecraft books. I say "discover" because we already had them! This has really opened up a lot of possibilities for readers with more specific interests. They're finding books they didn't even know we had.
"I love how the bins give the students a sense of independence and ownership. I will have a student ask where something is at and often another student will jump in saying 'I know where that is at, want me to show you?' Love it!" Wakanda Elementary School Library Clerical Kim Navarro said.
The year I started in this position (2017-2018), there were 3,154 nonfiction books checked out between all five elementary schools. The following year, I started installing the bins. Our nonfiction checkouts rose to 9,031 – a 186 percent increase. At Wakanda, Navarro saw the success of the bins in the nonfiction section and thought she would try it with some books in a series. She put Puppy Place, Heidi Heckelbeck, Owl Diaries, etc. in baskets in the fiction section to see what would happen. Sure enough, checkouts of these books went sky high. While I'm not sure we're in a place to think about genrefying our fiction section, it's interesting to see that the potential for similar results exists.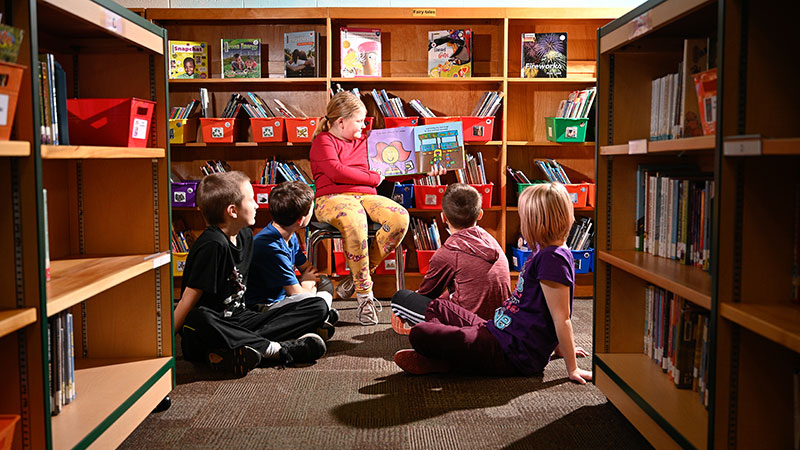 I know it was difficult for library clerical in the beginning, though they didn't say it. Their nonfiction sections were torn apart; half Dewey, half in bins. They're still learning which categories have bins and which still have to be shelved the old way, but they have never once complained. As they voice questions or concerns, we work through it and are coming out the other side with libraries that better serve our students and staff. This isn't a perfect system, I admit, but it's really working for us. Ultimately, for me, it came down to what works best for students. And what used to be a desert in our library is now a thriving oasis. For real!
I'm still looking for funding to finish this project. If you'd like to donate, please visit my Donors Choose Page.