Radio's Elvis Duran talks shifting from the mic to the memoir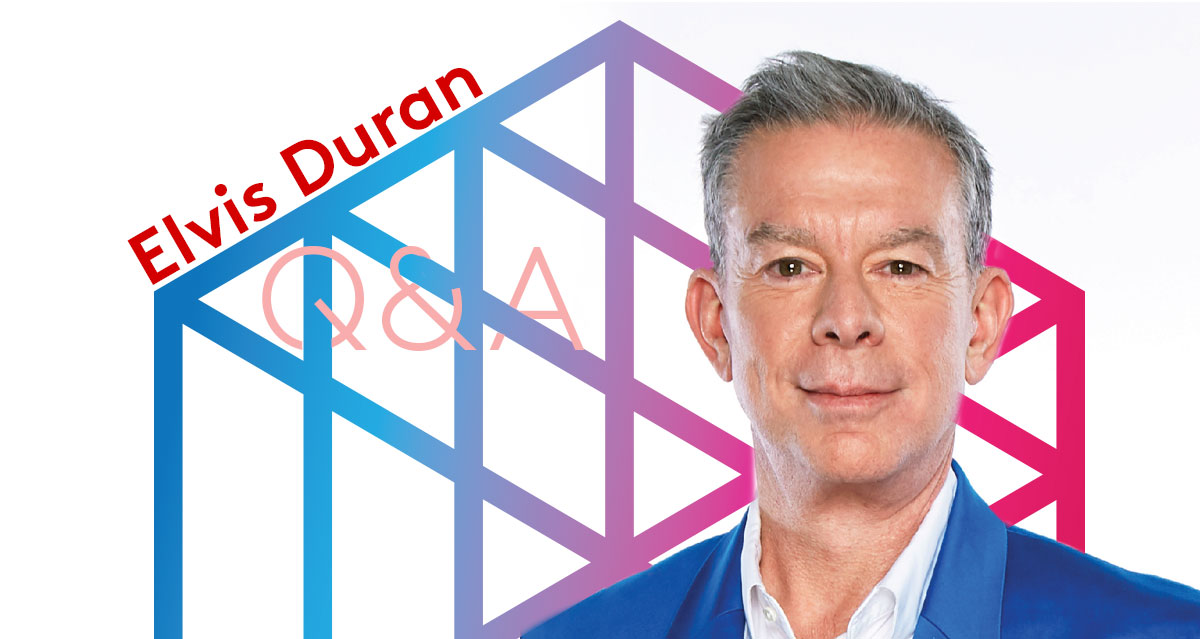 By Andi Barnett, Staff Writer | December 2019
Elvis Duran hosts Elvis Duran and the Morning Show, a nationally syndicated radio program that's listened to daily by millions worldwide. The show is loaded with interesting and factual information, provided in a comical format. Recently, his first memoir, Where Do I Begin?, landed on the New York Times Best Seller list.
Perspectives on Reading recently joined Elvis backstage before a book signing to pick his brain about libraries, communication and what he's learned from writing an autobiography.
PoR: You grew up in McKinney, Texas. What are some fond memories you have of the McKinney Public Library?
Elvis Duran: My dad was the city manager, and he had McKinney Public Library built, so my dad's name was on the little plaque as you walked in. I loved the library because it was more than just books, it was the community center and people would hang out there for lectures and there was always activity going on! That's why I think in this day and age where you can just go (online), order a book and never think about a library, that's hogwash. You need to visit your library.
PoR: That is hogwash!
Elvis Duran: And they all have that special smell, that book smell.
PoR: I've heard you talk about the New York Public Library and other great New York libraries on your show. Although you're obviously a very busy man, how do you find time to visit these libraries or read period?
Elvis Duran: Well, the cool thing about the big New York City library is that it's a beautiful piece of architecture designed by McKim, Mead and White. These are the greatest architects New York City has ever seen; they've done all of our great buildings. So just walking into the building…it's this big, majestic, powerful thing and it also happens to be a library. In our city, it's one of the most important structures, and it's the library!
PoR: As a radio personality for the last few decades, you've no doubt experienced the power and importance of language. How has reading impacted or shaped your ability to communicate with your listeners throughout the years?
Elvis Duran: When I was a little kid listening to the radio, there was one radio guy named Ron Chapman…he did the morning show on this station in Dallas, the station that sort of seduced me into becoming a radio personality. I wrote him a letter saying, "Oh my god, I love listening to your show! You're great…what do I need to do?" He wrote me a letter back and he said, "You need to learn about the power of words and how to paint pictures with words, because people cannot see us. Just as in reading a book, they will paint the pictures with their minds as you talk to them." That always impressed me, just slapped me upside the head. It's the use of imagination. We're just like books, but we're live and loud and sometimes get sued.
PoR: You just released your debut memoir. How was sharing your life to readers through the writing process different than sharing your life as you normally do, live, on-air to listeners?
Elvis Duran: You know what, it really was a study of my life. Our lives are basically a bunch of stories, you know? To be able to read your story about you, the things you did back then which made you this way or feel that way and made you form opinions the way you do…it's important to study yourself and get to know you. I actually got to like me through reading these stories! Sharing that through the book is a little different than what we do every day on the air. It's just me and not a room with 15 people in it like we do every day…it was my time!
I'm still learning about myself. I was reading a chapter the other night because I thought I had left something out and while reading that chapter thought, "Wow…that was cool! That happened to me!" It sounds like an egotistical thing, but we all have a book in us, we all have stories. I say everyone should be writing these things down…it's like looking at yourself in a mirror but through words.
PoR: Did you find it challenging to include some parts of your story in the book?
Elvis Duran: Looking at a blank piece of paper was a frightening thing.
PoR: I don't doubt that.
Elvis Duran: And then I had to fill up several hundreds of those. It was a challenge, but it turned into a process I really truly enjoyed. I want to write another one! I'm ready to go.
PoR: Although Elvis Duran and the Morning Show is largely focused on entertainment, it still includes daily news to keep listeners informed. How much news do you read every day? What are your main sources? In this age of "fake news," how do make sure you're reading and sharing reliable sources?
Elvis Duran: I'm a news junkie, I read a lot…during my few moments before the show and also during the show. We also talk in the room…we're all news hounds and we love to talk about the stories. I go to The New York Times. I'll even look at Fox News. I'll look at CNN. I look at everything that's in front of me. I also have writers that read the news and spit it out in a way I can understand a little better and give me the headlines that make it easy to share with listeners. We walk into the studio with a mountain of things to talk about and we get to three things…it makes me mad. If I had my show my way, we'd be on 24 hours a day.
PoR: Time and time again, your listeners will say how the show made a huge positive impact in their lives. Your book has the potential to do the same. What do you hope that readers take away from your book?
Elvis Duran: I say this a lot, but it's a very powerful statement about what I do and what we do on the show: We're in the friendship business. It's all about connecting with people. There's a lot of people in this world that are lonely; I know I was lonely when I was a kid…I was a loner and that's why I turned to radio, to make a connection. But radio back then was a one-way connection, now it's two way through social media. I love the fact that we can be on the air — and now I can write it in a book — and talk about things that I think are kind of interesting and we can connect through it. You're going to read something I wrote where you're going to go, "POOF! I get that! I'm the same way!" Connecting either on the show, through the book or social media, whatever…I love doing that. We need to connect more with people. I think it's important for mental health, to be communicating.