What's next for school librarians?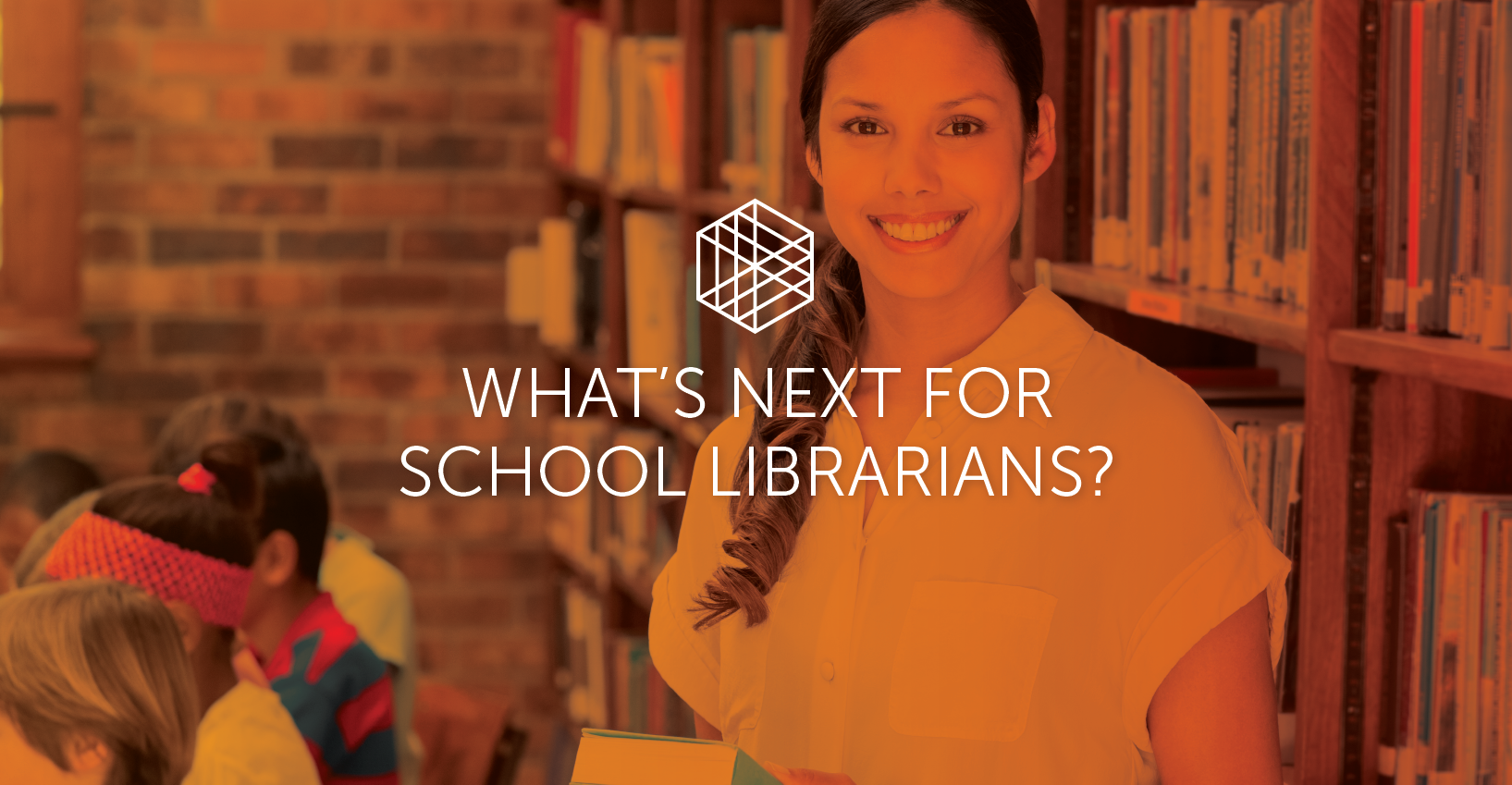 By Alecia Mouhanna, Staff Writer | July 2021
Curating reading materials, serving as de facto technology experts, teaching, providing literacy and logistical support — these are just a few of the hats that school librarians might be expected to wear on a day-to-day basis. In ways both measurable and intangible, school librarians serve as a critical educational support across departments and schools, whether they're inside or outside of the classroom.
But over the past few years, amid shrinking budgets and increasing operating costs from higher student enrollments, school libraries and librarians are often some of the first victims when the time comes to make cuts. In April, for instance, the Nebraska Department of Education proposed changes to its accreditation rules that would only require school systems to employ one half-time certified school librarian per district, with an adult or paraprofessional required to supervise each library. This is a significant alteration to the existing regulations, which currently dictate school librarian requirements based on school size. Under the new suggested rules, Lincoln Public Schools – the second largest district in the state, with more than 40,000 students — would only be required to employ one half-time librarian for the entire district.
Additional concerns have been voiced this year by top librarians in places like New Jersey and the District of Columbia regarding the declining number of school librarians, how thinly spread existing personnel are and how inequitable the distribution of librarians is across districts.
The school library: A crucial "luxury"
Though some states — like New York — have protective mandates in place requiring a library per public school, the rules covering librarians are spottier. For example, the New York State Education Department only requires secondary schools (grades 7-12) to employ a certified librarian, though they are strongly recommended at the elementary school level.
Similar variances can be found across the U.S., from enforced mandates, to unenforced mandates to no mandates. In fact, according to SLIDE: The School Librarian Investigation—Decline or Evolution?, a federally funded exploratory project focused on determining patterns in the decline of school librarian positions nationally, at least 20 percent of public school districts (excluding charter schools) had no librarians at all for 2018-2019, impacting 7 million students. Only 10 percent of charter schools reported having a librarian.

The perception that dedicated school librarians are more luxury than necessity is also underscored by 2018 data from the NCES, which revealed that between the 1999-2000 and 2015-2016 school years, the profession of public school librarian lost the equivalent of more than 10,000 full-time positions in the U.S. — a 19 percent drop in the overall workforce, from 53,659 to 43,367. That some of the most rapid declines have occurred in more recent years — between 2009 and 2016 — is of particular concern.
But there is a catch. In a presentation at the American Library Association (ALA) Midwinter Conference in January, SLIDE researchers noted that while the existing data indicates that the number of school librarians is declining, it's less clear whether or not the fall-off is quite as steep as it appears to be, or if some of the reduction is attributable to a reclassifying of the role of librarian into something more multidimensional. To that end, in a January open letter to then President-Elect Joe Biden, the American Association of School Libraries (AASL), ALA and 48 state-level school library associations requested, among other things, that the NCES definition of school librarian be updated to reflect the position's instructional role and national standards.
Semantics aside, school librarians — whether they go by the title digital learning specialist, digital media specialist, library media specialist or something else — remain especially vulnerable to budget and staffing cuts, and that's a problem.
Because while the research is somewhat limited, there is data to back the assertion that having dedicated school librarians correlates with higher overall reading scores. For example, a 2011 study using state-level data from the National Center for Education Statistics (NCES) analyzed the impact of librarian layoffs on fourth grade reading scores between 2004 and 2009. The results revealed that of the 26 states that gained school librarians during that time period, 19 showed significantly greater improvements in reading scores — 2.2 percent — than did the states that lost librarians during the same time period.
And, more recently, the COVID-19 pandemic has cast a new light on the role of school librarians — and what might come next.

What role will the pandemic play in the future of school librarians?
In many ways, the pandemic illuminated exactly how important school librarians are. Though their skill set makes librarians uniquely equipped in many ways to meet the challenges of remote learning, their actual involvement in high-level decisions at the pandemic's outset appears to have been mixed. School Library Journal News Editor Kara Yorio described the situation as "primed for their expertise," though "many find themselves frustrated and on the sidelines of administrative decisions and lesson planning."
However, Yorio goes on to note that under challenging circumstances, librarians found other ways to contribute their expertise by curating resources and creating websites to house them, working more closely with teachers to determine the best way to assist with learning, recording read-alouds, ensuring access to ebooks, moderating book discussions via Flipgrid or Zoom and creating how-to videos for staff and students — just to name a few things. And there are plenty of other in-the-news stories covering enterprising school librarians who found ways to deliver books to their students during remote learning, whether it was through curbside pickup programs, connecting them to the public library, doorstep drop-offs and even delivery via drone service.
Plus, in an interview with Publisher's Weekly, AASL President Jennisen Lucas points out how important librarians were as an asset to their colleagues throughout the pandemic: "A flood of information was shared at the beginning of the shutdown last March. So then [for educators] it became, 'I don't even know what resources to pick.' Librarians were able to step in and say, 'These are the ones that are pretty good, and I can take on that role of finding things that might work for you.'" She also notes that school librarians are increasingly recognized for their digital prowess, with the expertise to access information and curate it no matter the packaging.
What this all adds up to is a pretty hefty workload for librarians who may have already been stretched thin by budget cuts and prior layoffs. According to an AASL snapshot survey of school librarians for the 2020-2021 school year, 54 percent of district-level personnel and 49 percent of building-level personnel reported that their responsibilities had increased over the previous school year. Increased district roles included leading more professional development, creating protocols for distance learning, curating digital resources and providing technology integration and support. Meanwhile, increased roles for building-level school librarians included teaching more classes, assisting classroom teachers with technology, creating instructional videos, curating digital tools and other online resources, and providing an increased community outreach/social media presence.
However, whether this increase in responsibilities will result in higher prioritization of budgeting for school librarians and support staff is difficult to say.

New funding = An opportunity to spotlight school librarians
Under normal circumstances, an unexpected event like the COVID-19 pandemic — which required significant diversion of budget and manpower to accommodate resources and protocols for the new distance/hybrid learning environment — might have spelled disaster for cash-strapped public schools. And that likely would have meant bad news for librarians.
However, a significant influx of new relief money from the $190 billion Education Stabilization Fund (ESF) — established in 2020 by the Coronavirus Aid, Relief, and Economic Security (CARES) Act and supplemented by funding from the subsequent Coronavirus Response and Relief Supplemental Appropriations Act (CRRSAA) and American Rescue Plan Act (ARPA) — may offer a ray of hope to K-12 schools hoping to avoid cuts. Allowable uses for the money are flexible — they include safely reopening school buildings, hiring additional staff, reducing class size, modifying school spaces and meeting student needs — with the caveat that 20 percent must go toward addressing learning loss.
In sum, these new funds may be key not only to schools seeking to retain their librarians and bolster the number of print and digital resources available to students, but for districts and schools who might be interested in building a library from the ground up but lack the means to do so. But getting a seat at the table will likely require at least some self-advocacy, which is why AASL's recommendations for obtaining funds include approaching district leadership or other decision makers with an actionable plan that is aligned with allowable uses for the funds, and seeking out partnerships with state and local organizations.
The next chapter: Looking ahead to the future of school libraries
In talking to Publisher's Weekly, Lucas, at least, is hopeful about what's on the horizon for school librarians. "In my district, for example, we've been doing a lot more talking with local stakeholders about what they are going to want from our students when they graduate and go into the workforce," she says. "And the answers that are coming back are that they're going to need people who can problem solve. Well, guess where they can practice that? The school library. It's being able to notice those opportunities and get involved. We're at a turning point, and we may be able to offer the table for the meetings instead of just having to pull our seat up to their table."
It's another potential evolution in a field that has experienced some big shifts already. But if the past few years have provided any lessons, it's that school librarians are inherently adaptable and play a role more critical than anyone might be aware in supporting students and their fellow educators — making it paramount to preserve and expand their space in the school for years to come.