The critical role of academic libraries (and fiction) during the enrollment downturn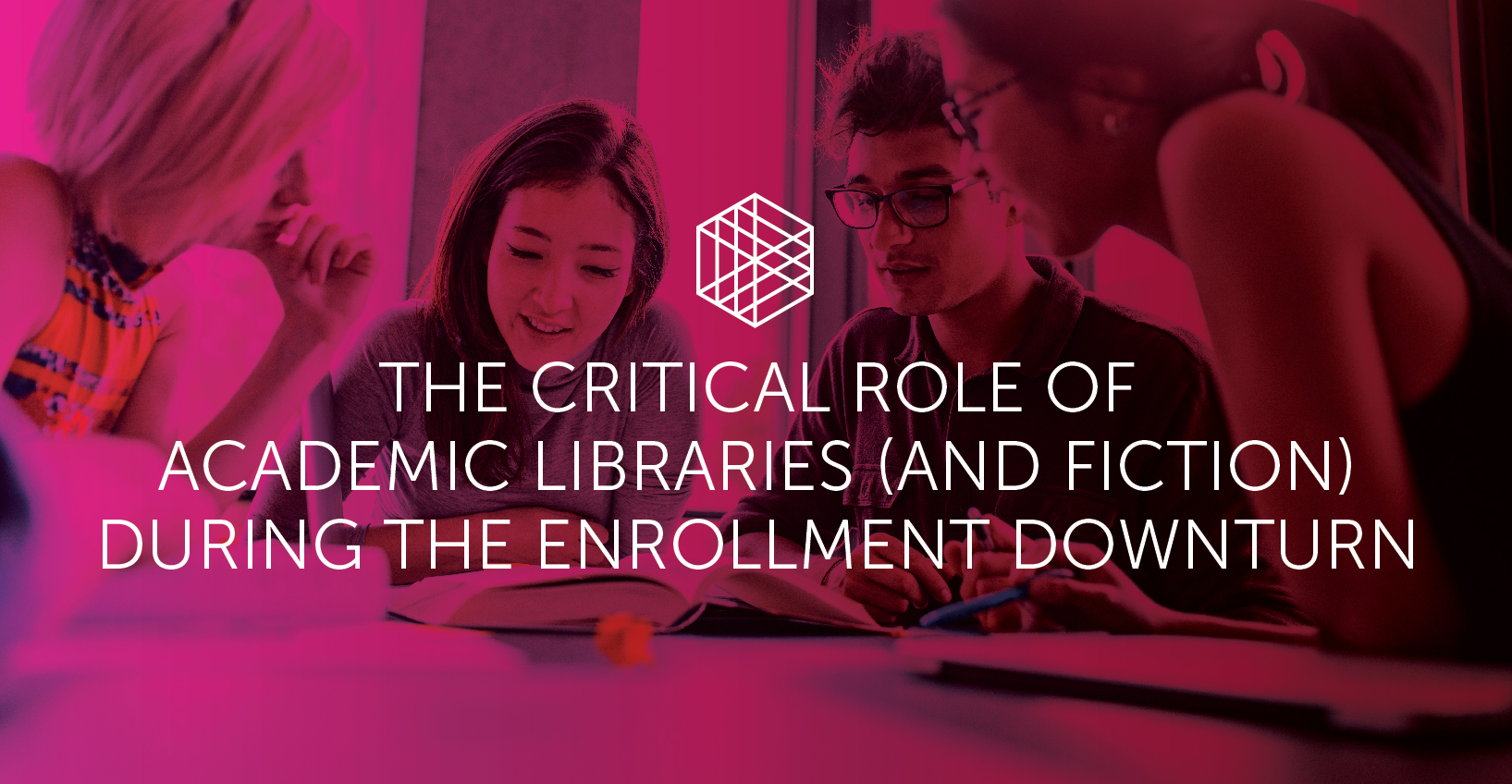 By Molly McNamara, Contributor | June 2023
Undergraduate student enrollment in the U.S. has been on a downward trajectory the past several years. According to a report from the National Student Clearinghouse Research Center, undergraduate enrollment declines are happening across all sectors, with a 2022 decrease of 1.6 percent at public four-years; 0.9 percent at private nonprofits; and 2.5 percent at private for-profits. Community college declines have slowed, with only a 0.4% enrollment loss compared to fall 2021.
Enrollment can have unprecedented impacts on all parts of an academic institution, and libraries are no exception. Despite the constantly changing landscape that academic institutions have seen in the past several years, libraries have remained critical in the lives of the faculty and students they serve. In fact, even with often shrinking enrollment numbers, academic libraries have seen responsibilities and expectations often increase with the same or even less budget.
Beyond their irreplaceable role as the source of curriculum support and research, many libraries have brought special attention to what is often called "whole student education"; providing resources and tools to support development in areas of student enrichment. Particularly in a time when enrollment numbers are down, serving students and faculty in more robust ways is critical to retention.
Student retention & "whole student education"
Universities aim to provide the highest caliber of education to every student that enrolls, but academic success goes well beyond the classroom. The expectation is that students will be more cultured, open-minded, well-rounded and better versions of themselves when they graduate than the day they enrolled. This student enrichment occurs in many facets of university life, but libraries have a unique role in "whole student education".
Mary Aagard is the head of acquisitions and collections and an associate professor at the Albertsons Library at Boise State University, Idaho's largest public university.
"I feel like there's lots of opportunity for academic libraries to be a part of that student wellness and whole student conversation," she said.
Aagard believes leisure reading plays a role in this, alongside content in areas like self-help, personal development and diversity, equity and inclusion (DEI). Collectively, these types of content offer students opportunities for relaxation, contemplation, reflection and independent learning.
And with complex issues seemingly emerging every day from every corner of the globe, it can be difficult at times to make sense of it all – especially for university students who are also trying to navigate their own changing lives. Aagard sees reading both popular fiction and titles about current events for leisure as a powerful way to gain a broader perspective on what's happening in our world.
"I'm a big proponent for how fiction opens your world and helps you develop empathy and understanding of other cultures," she said.
Georgia Southern University Acquisitions Librarian Jessica Minihan Rigg believes strongly in the importance of supporting the whole student with material outside the classroom. She noted that a critical component of the library supporting the whole student is recognizing and acknowledging they have lives outside of the classroom. This means addressing their actual interests and needs.
"They're Georgia Southern students, but they're also people, and mothers, and soldiers," she said. "Ultimately, I think our job is to help nurture their curiosity, and in a lot of ways, their empathy, too."
So, while academic libraries will always serve as one of the most trusted resources for curriculum materials, more and more are providing other avenues to support the whole student. Whether it's popular trade fiction or simply serving as a physical space for community connection, libraries have a significant impact on the engagement aspect of student retention. The value of higher education in its ability to support significant personal development of students is a component of attracting new students and keeping existing ones satisfied.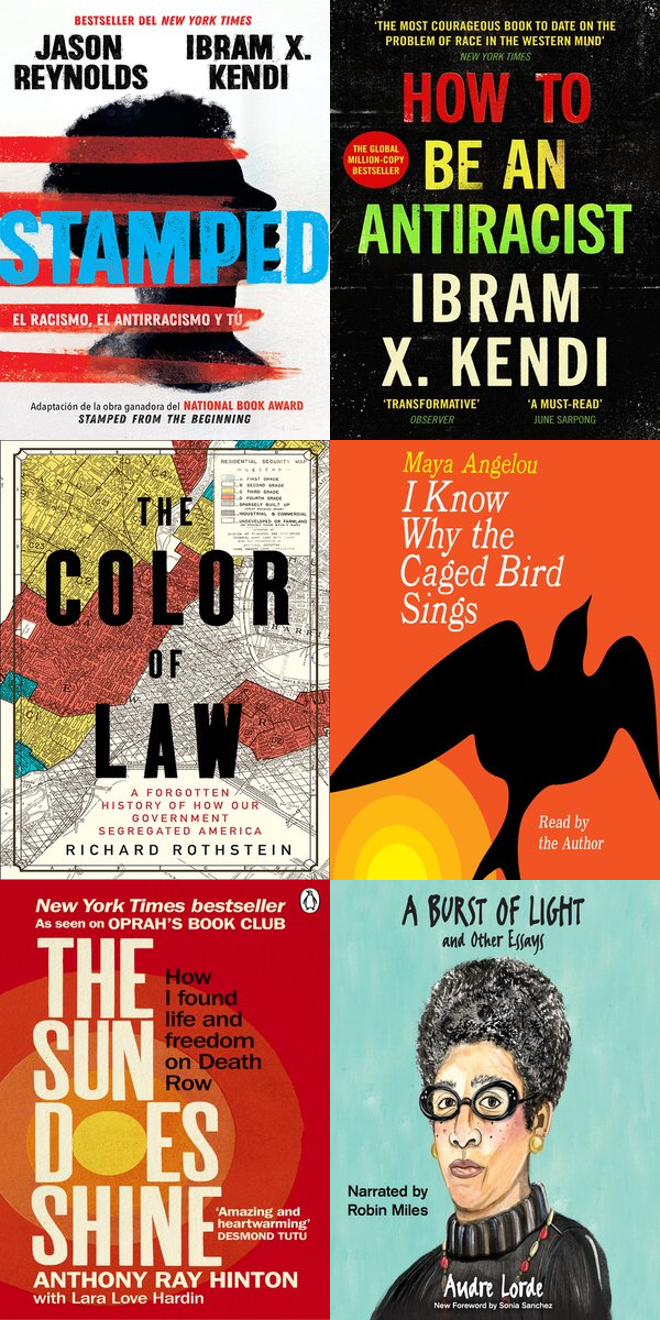 Creating more inclusive campus communities & access to critical content
Academic libraries have also been a pivotal resource in helping to develop more inclusive campus communities. Libraries have long been seen as trusted institutions for access to truth and knowledge. At the higher education level in particular, courses are increasingly covering race, ethnicity and gender and points of view. Students are more involved and interested in social justice movements and societal causes important to them. As a result, they are also seeking the campus communities they belong in to help reflect those values.
The role of the academic library to provide access to resources that both inform on topics like DEI and are written by diverse authors and perspectives is paramount. Students looking to choose whether to attend college at all want to know that the place they choose will give them the support, education and tools they expect when it comes to an inclusive environment. Inclusion and belonging are often core pillars to any higher education institution and there are ways beyond recruitment to ensure these pillars are part of everyday life.
For University of the South Director of Collections Management Penny Elkins Cowan, the last three years have seen a shift toward diversity, equity and inclusion (DEI) content.
"We started intentionally purchasing many more DEI-related (digital) titles three years ago and also curated a collection of Black Lives Matter (digital) titles to meet the needs of our students and faculty while they were remote," she said. "We wanted to provide as much material as we could to our remote learners that was grounded in a wide representation of diverse authors, topics and points of view. This curated collection continues to be used by all of our library patrons."
Publishers are also ensuring their catalogs provide the necessary content that libraries are seeking to support both curriculum and student or faculty interests. Rowman & Littlefield Publishing Group has shared how demand has increased and how they're ensuring they are meeting the needs of academia.
"In response to our higher education customers' increased curricular coverage of race, ethnicity, gender and LGBTQ+ social categories and perspectives, Rowman & Littlefield has seen a noticeable uptick across the board for our titles that directly address diversity and equity topics," the publisher said.
Rowman & Littlefield also noted that their editors "recognize that in education, diversity is a demographic fact, and that all educators at every level benefit from a well-rounded, robust, empathetic and positive knowledge base for working with all students, families and colleagues in the professional education settings."
Libraries' changing role in student & faculty wellness
Beyond DEI, an area where academic libraries have continued to put emphasis on inclusivity is mental health. In an environment where stress and anxiety are all too common, addressing the need for faculty and students to have resources and outlets to manage their mental health has been a shift. In the past, this has often fallen to the responsibility of campus health and wellness or student affairs departments. But as libraries increase their role in "whole student education", more is being done to address mental health with content and programming: Colleges have doubled their spend since 2019 (+113 percent) on mental health-related ebooks and audiobooks.
Collection Development and Outreach Librarian Michelle Owens reports that Rogers State University (RSU) in Oklahoma, like many institutions, experienced an increase in requests for titles about happiness and self-care throughout the pandemic.
"In response, we purchased additional titles, curated collections and hosted multiple popular virtual events that featured resources and title lists on these topics," she said.
Owens said RSU Libraries works closely with the psychology and community counseling programs and student organizations such as the RSU Student Social Justice League, and regularly receives title requests from these groups. In support of the campus' observation of events like Mental Health Day, National Coming Out Day and National Eating Disorder Awareness Week, RSU Libraries also selects related titles and curates digital collections for promotion over social media.
"We often collaborate with RSU Student Affairs, specifically our campus counselors, to support and promote their initiatives by using our resources," she added.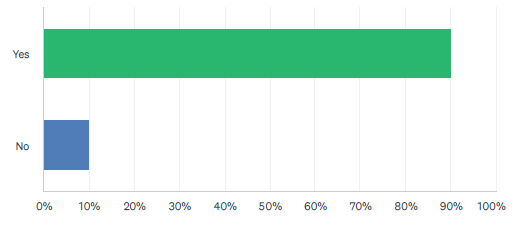 Accessibility and the expectation of digital native students
Libraries have always been at the forefront of providing equitable access to resources. Accessibility is core to any library, no matter where they are. And while accessibility is certainly not new in academic libraries, what that means has changed drastically in the past several years.
While enrollment is generally down across all sectors, online schools were among the few categories of schools that enrolled more students in fall 2022, according to the NSCRC report. And it's not surprising, as the pandemic opened a more widely accepted concept of remote learning. But whether attending college in person, remotely or a mixture of both, access to the library is not always physical.
In fact, results of a recent industry survey and report, The State of Ebooks in Academic Libraries: 2022, show that while curriculum support continues to be the dominant element in ebook collection development, non-curriculum-based ebooks are a growing portion of academic library collections. More libraries are acquiring popular trade fiction and nonfiction titles, with these genres seeing an 8 percent increase since a similar 2020 survey.
To ensure faculty and students have constant access to the library, academic libraries have increased their digital services and resources to accommodate. In fact, 90 percent of academic library professionals responding to the State of Ebooks in Academic Libraries survey indicated they had added digital resources in the last two years, including databases and journals, leisure and video/entertainment and curriculum materials.
Being able to access library materials remotely, whether through online databases, apps or even the library website has become a must-have. Often, budgets are being adjusted to increase digital spend where possible and, in some cases, cut back on physical resources.
Like many universities all over the world, McGill University in Quebec needed to quickly pivot to provide digital access to their library at the start of the pandemic.
"In the two years since, the tables have truly turned on print," said Joseph Hafner, Associate Dean, Collection Services at McGill. "We stopped doing any physical or print courses reserves in March 2021 …We have really transitioned away from as many print course materials as possible and encourage faculty to utilize online resources, including ebooks and audiobooks, for course reserves."
Hafner went on to explain that beyond just delivery access, they have been able to accommodate different learning styles with their recently added digital content. Many features and formats available with digital content can accommodate auditory and visual impairments.
Today's college-aged students are digital natives. They have grown up with access to digital formats more than any generation before them. They have also experienced remote learning and have an expectation of the flexibility that it offers. So, as universities and colleges focus on increasing enrollment and retention strategies with this generation, the services that their schools provide need to offer the digital expertise that students expect.
The constant of academic libraries
Whether or not the enrollment downturn continues, the critical role that academic libraries play in higher education remains steadfast. Libraries will always serve as the accessible source of knowledge, truth and so much more for the students and faculty they serve. The materials and formats they provide will continue to change alongside the industry, but their value and necessity to their campus communities – whether shrinking or growing – will endure.