Pursuing the Holy Grail of library ebook models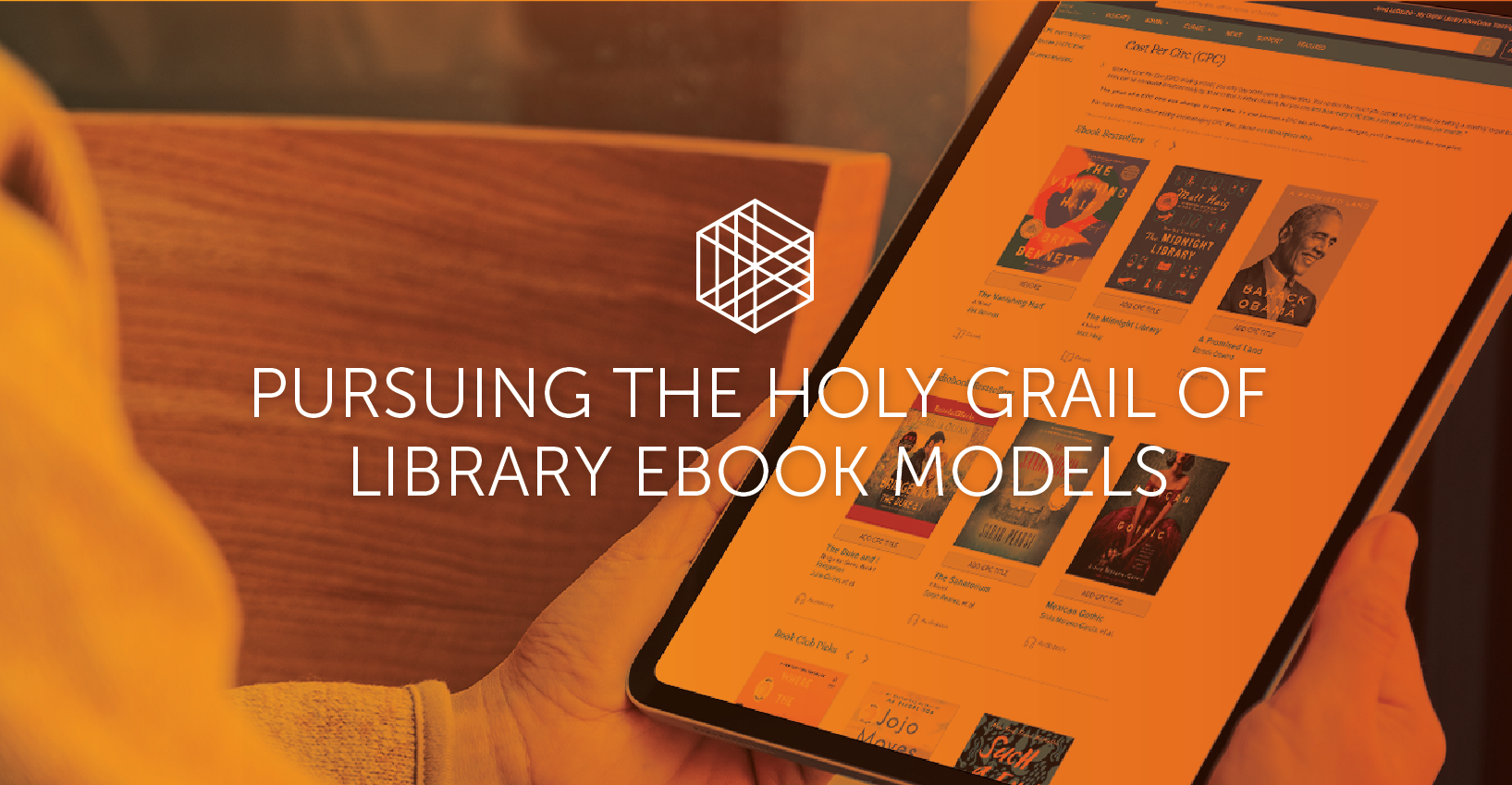 By Steve Potash, Publisher | March 2021
I have been following the news of the recent Mars landing and the exciting exploration plans that have begun. The flawless landing and early images sent by the rover represent the culmination of years of dreams and aspirations of hundreds of scientists and engineers. I have one request for the NASA team to add to the experiments and discovery on the red planet. Can they scan the Martian landscape to find a digital book lending model that satisfies and balances the interests of libraries, schools, authors, and publishers?
I ask this question because we have yet to uncover the answer to this vexing and urgent issue on Earth.  Like the Mars rover appropriately named "Perseverance," OverDrive has persevered for 20 years on behalf of libraries with authors and publishers to advocate for fair, flexible, and reasonable terms for library lending of popular titles. Last year we saw meaningful progress with dozens of publishers enabling more affordable options for acquiring rights to their collection. But we are still searching for the Holy Grail access model. We have been on this quest since the first public library permitted download of a New York Times bestseller (thank you HarperCollins – circa 2004). While we are still seeking to deliver ever-improved value to our partners, I am proud of the incremental gains in this journey from the past year.
Concurrent Use: Metered Access (by circulation) is OverDrive's newest access model and it has a lot going for it. With over 70,000 titles available in OverDrive Marketplace, schools and libraries can purchase titles or groups of ebooks and audiobooks in bundles of 100 checkouts. This "bulk purchase" of popular titles for your library or school can be used to support peak demand because all readers can check out the title at the same time, under this "concurrent use" model. Inventory purchased under this model has no expiration date.
An example of application of this model as a cost-effective solution include a library purchase of 100 loans of the Recorded Books audiobook of the Bridgerton Series, The Duke and I at a cost of $1.75 per loan. Schools can use this concurrent use model to provide Forgotten Bones, Uncovering a Slave Cemetery from Lerner Publishing to 100 students at the cost of $0.46 per copy. With bulk rate pricing, inventory costs are fixed for lending and can supplement other models offered by OverDrive.
Simultaneous Use Catalogs continue to expand. While OverDrive Marketplace offers hundreds of thousands of titles for simultaneous use, the most notable advance has been availability of all digital magazines supplied by Zinio with seamless integration into the Libby app. The new OverDrive Magazine catalog adds titles each month and now has more than 3,300 periodicals at a flat annual price.  Top circulating magazines include The Economist, US Weekly, The New Yorker, HGTV Magazine, National Geographic, Bon Appetit, Newsweek, Vogue, and hundreds more. Library partners and patrons are enjoying simultaneous access to thousands of magazines alongside comics and graphic novels as libraries leverage these "always available" collections to attract new readers.
OverDrive pioneered simultaneous use library lending over a decade ago starting with travel, education, reference, and non-fiction genres. Today we offer hundreds-of-thousands of popular fiction, juvenile ebook, and audiobook options for a school or library for simultaneous lending for a year at a fixed cost.  Thousands of titles from leading publishers are available for digital book clubs or other high-demand needs. Titles start as low as $60 for an entire month of simultaneous use access for a romance novel, to a few hundred dollars for access throughout the year. Examples include The Last Flight, by Julie Clark, or The Book Woman of Troublesome Creek, by Kim Michele Richardson. Prices are all available for review in OverDrive Marketplace, in the Shop Simultaneous Use section.
OverDrive also recently updated thousands of no-cost evergreen literature selections from Duke Classics, many with fresh covers. A 2020 addition to this collection is F. Scott Fitzgerald's iconic The Great Gatsby, as it recently entered the public domain. If your library isn't taking advantage of these free titles and curating them for readers to find, you are overlooking a tremendous resource. They join our high-quality Project Gutenberg catalog all at no cost for simultaneous lending programs.
Cost per Circ (CPC) was used for titles surging in popularity as a strategic collection development tool this past year. Now nearly all major trade houses offer this option to meet demand for best-sellers.  When used in conjunction with metered access catalogs, CPC provides targeted relief for long wait times, instant access for reading campaigns or can meet seasonal demand. Examples include Gluten-Free for the Holidays from Simon & Schuster for $0.69 per circ, or the #1 New York Times bestseller The Vanishing Half, by Brit Bennett from Penguin for $2.47 per circ.  CPC titles are perfect for book club and community read events. With this model, the library does not prepurchase any units. Thousands of bestselling ebooks and audiobooks in every genre are available with this on-demand, multi-purpose model.
Custom curation with library branding for "Lucky Day" and "Skip the Line"
Based on how libraries circulate high-demand print titles with special merchandising and lending policies, we created OverDrive Marketplace Lucky Day curation tools. Lucky Day and the corresponding Skip the Line feature in Libby provide a proven merchandising tool to deliver more readers with access to high demand titles.  Using a shorter loan period tightly integrated with a patron's Hold Lists, libraries are reducing both the cost per circ and wait times for popular titles. Our local Cuyahoga County Public Library (OH) curates their list calling it "Prime Picks," Loudon County Public Library (VA) offers a collection entitled "7-Day Hot Picks," and San Diego County Library (CA) curates and brands their service as "Hot.Right.Now." Toronto Public Library calls their custom curated way to skip the hold que as "Best Bets."
Access models needed for school curriculum
Schools are urgently seeking to utilize digital books for remote and distance learning for both classroom and school library needs. Working with school librarians, curriculum leaders, and other literacy and reading advocates, we ask educators these questions to guide how we negotiate and seek terms and permissions from authors and publishers:
Are you building a lending library or are you supporting your curriculum, or both? If curriculum, are you using a specific curriculum plan?
Do you have a list of required & recommended titles by grade or by unit?
How many students need to be served?
Do all students need access at the same time?
How long do students need access to the titles?
What has quickly evolved are On-Demand class sets that provide access to class or grade specific collections that trigger a purchase after a title is used in the classroom or self-selected by a student. To help streamline educators' and students' experience with their digital books, this past year, the student reading app Sora has been deeply integrated with Google Classroom, district library catalogs, and utilized in learning management systems.
Public Library Connect (PLC) with schools in a library's service area
Curated juvenile and YA collections at public libraries and consortia are delivering great value to students in and out of the classroom. As of this writing, students in over 19,000 U.S. schools can simultaneously browse and search their school's Sora digital collection, along with the grade appropriate catalog at their local public library.
Last month Harris County Public Library (TX) loaned over 30,000 titles to students in area schools from their public library catalog via the Sora app. I am encouraged by how juvenile non-fiction digital collections from public library catalogs are serving students at a sustainable cost. As Lisa Kulka from Harlandale ISD in Texas reported, "There are a variety of reasons why students and families don't have library cards. With Sora's PLC feature, all our students need is their school district login information. We have removed that barrier."
Libraries adding local content to their circulating collection
An area for libraries to lower the cost of materials that serve readers is by circulating digital content that they own. We are seeing a growing interest in libraries and schools investing in local content production for a variety of purposes. With the Local Content service in OverDrive Marketplace, libraries can upload their own ebooks and audio files and circulate them to readers with Libby. Libraries use the Local Content service by uploading ebooks written by local authors or from other digitization projects.  Once the titles are uploaded, titles can be curated and circulated alongside all other OverDrive materials.
A recent example of a library using this function is from the always-innovating National Library Board of Singapore (NLB). They have curated a digitized collection of their BiblioAsia quarterly publication featuring the culture and heritage of Singapore. These titles were converted into graphic-rich editions in EPUB 3 by NLB and are offered to their patrons. You can see the BiblioAsia collection here:  https://nlb.overdrive.com/search?query=BiblioAsia. NLB has generously made all 26 beautiful and interesting editions of BibilioAsia available to all libraries and schools as simultaneous use titles, at no cost. To add them to your library's collection, search for BiblioAsia in OverDrive Marketplace under SHOP Simultaneous Use.
Community Read, Digital Book Club and Together We Read campaigns
This past year we donated a growing collection of unlimited simultaneous use ebooks and audiobooks at no cost to many library partners. We are currently in the middle of a successful Together We Read program offered by thousands of participating libraries. Simultaneous use access to Love Lettering by Kate Clayborn from Kensington Books as an eBook and Tantor Media as audiobook is just one of the hundreds of book club events authors and publishers enable to promote library engagement with readers.
These programs are just right for digital book clubs, community reading events, and general inventory support. Last year we provided a package of #ownvoices and diversity reads for students; our Black Lives Matter: Community Read program provided titles to help patrons read, listen, learn and grow as they expanded their knowledge of race relations; and we also donated Spanish titles for young readers.
The quest continues
What began as a single model for ebooks 20 years ago is constantly evolving. OverDrive is engaged in ongoing publisher advocacy seeking to deliver the best options to serve the mission of our library and school partners. Not that long ago (2019) we joined the American Library Association and library partners to seek the reversal of restrictive policies that impaired how libraries serve their readers. See https://company.overdrive.com/2019/06/18/a-message-from-steve-potash-on-recent-publisher-lending-model-changes/. Our advocacy efforts are even more critical now due to how pandemic events have impacted school and library operations. Our ongoing investment into the work of the Panorama Project also informs us as we seek to balance the interests of all publishing industry stakeholders.  At 1 p.m. EST March 10, the Panorama Project is hosting a webinar that discusses the major findings from its recent survey in partnership with Portland State University examining consumers' engagement with immersive media relative to books as well as their buying behaviors across multiple formats and platforms. Register here to participate.
The perfect access model is still out there waiting to be discovered. This quest will continue until we provide libraries and schools access to expansive catalogs with sustainable and scalable use models. The challenge for this balancing act requires that the prevailing business model are also well championed and embraced by authors and publishers. I am hopeful that as the Mars rover continues its mission, closer to home, as your partner for digital materials, we will achieve new milestones in this pursuit.