BLDG 61: Boulder Library Makerspace fosters hands-on learning & purposeful experiences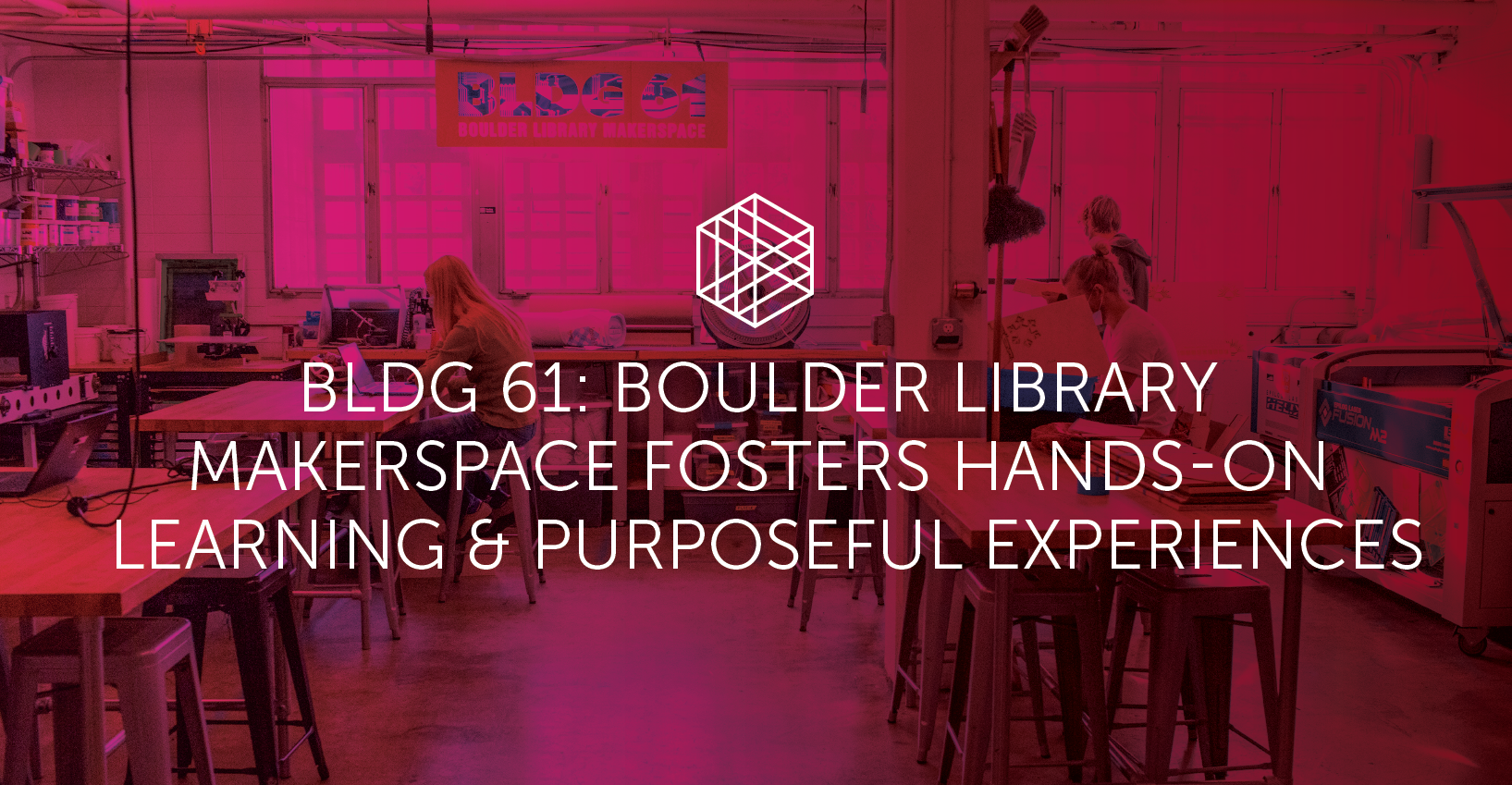 By Brian Byrne, Editor | January 2022
"This place makes me want to be a librarian!"
That quote from a 70-year-old patron is probably Creative Technologist Zack Weaver's favorite piece of feedback on BLDG 61, the dynamic makerspace at the Boulder Public Library he helps oversee.
Opened in 2016 through a grant from the Boulder Library Foundation, BLDG 61 is a free community workshop dedicated to hands-on learning and the cultivation of purposeful experiences through making. Its amenities rival any high-tech university facility, and include laser cutters, sewing machines, welding tools, CNC (computer numerical control) machines, 3D printers, looms, screen printing equipment, vinyl cutters, electronics, woodworking tools and more.
"BLDG 61 is like no other library space we know of in that it offers access to a wide range of creative tools, including heavy, industrial fabrication tools. It was an endeavor that required vision, careful planning and a willingness to take a risk," Weaver said. "The undisputed success of the program is a result of the Boulder Library Foundation's appetite for funding new and creative initiatives."
To date, more than 40 businesses have launched at BLDG 61, and 10 patents have been filed. Learn more about how Boulder entrepreneurs use BLDG 61 to grow their businesses:
Like institutions across the globe, BLDG 61 was forced to temporarily close its doors to the public in spring 2020 at the start of the COVID-19 pandemic. However, as Weaver proudly points out, this didn't stop his team – including Adam Watts, Robby Holb and Emily Platzer – from continuing their work to support the community.
"When we closed in March 2020, our team immediately went into action, intuitively recognizing that makers are never more useful than during a crisis," he said.
The BLDG 61 team set up sewing and 3D printing workshops in their homes to produce masks, face shields and other personal protective equipment which were distributed through local organizers to front-line workers. They also produced video tutorials and curated an online repository for others to access their design files and those they sourced from makers around the world. Read more about the BLDG 61 team's efforts to help front-line workers here.
Since the shutdown, BLDG 61 has also embraced remote learning, launching a YouTube channel offering tutorials on topics ranging from laser cutting and 3D printing to making sauerkraut and rendering butter. Of particular meaning was a series of cross stitching tutorials from local artist Heather Schulte as part of her memorial art project for victims of COVID-19, Stitching the Situation.
"Heather's example is an outstanding demonstration of what can happen when libraries offer innovative resources and even create unique content," Weaver said.
Since reopening in June 2021, Weaver reports BLDG 61 has seen a steady return of patrons both old and new. Additional patrons have taken advantage of the video tutorials to train on the laser cutters and the recently added MIG (metal inert gas) welding workshop, and wood shop programming has tripled the number of patrons served.
"The energy and attitude of our patrons is what has kept our spirits afloat," Weaver said. "And our generous benefactors, the Boulder Library Foundation, have made huge investments in keeping programs and equipment running smoothly."
Like institutions of all shapes and sizes, the pandemic has presented BLDG 61 with unique challenges, including budget cuts. However, Weaver is confident that these hurdles have helped facilitate changes and improvements that position BLDG 61 for even greater success in the future.
"We've stepped over the edge of hybrid learning models where classrooms are simultaneously virtual and in-person. Not only is there no looking back, but we're realizing an anticipated near-future standard," he said. "It's a silver lining; the pandemic accelerated our move toward another innovation for libraries and library makerspaces."
Want to learn more about BLDG 61? Check out their YouTube channel and follow them on Instagram and Twitter. Here are two great videos showcasing the Maker Made gallery show of works created at BLDG 61 and its Space Camp, which offered 16 local students the opportunity to launch high-altitude balloons that recorded flight data on electronics systems they designed!